The messages module can be used for sending an important information from Backstage and to be received from the participants in their apps.

From List messages, you can review all messages that were created in Backstage and were sent or going to be sent to participants' apps.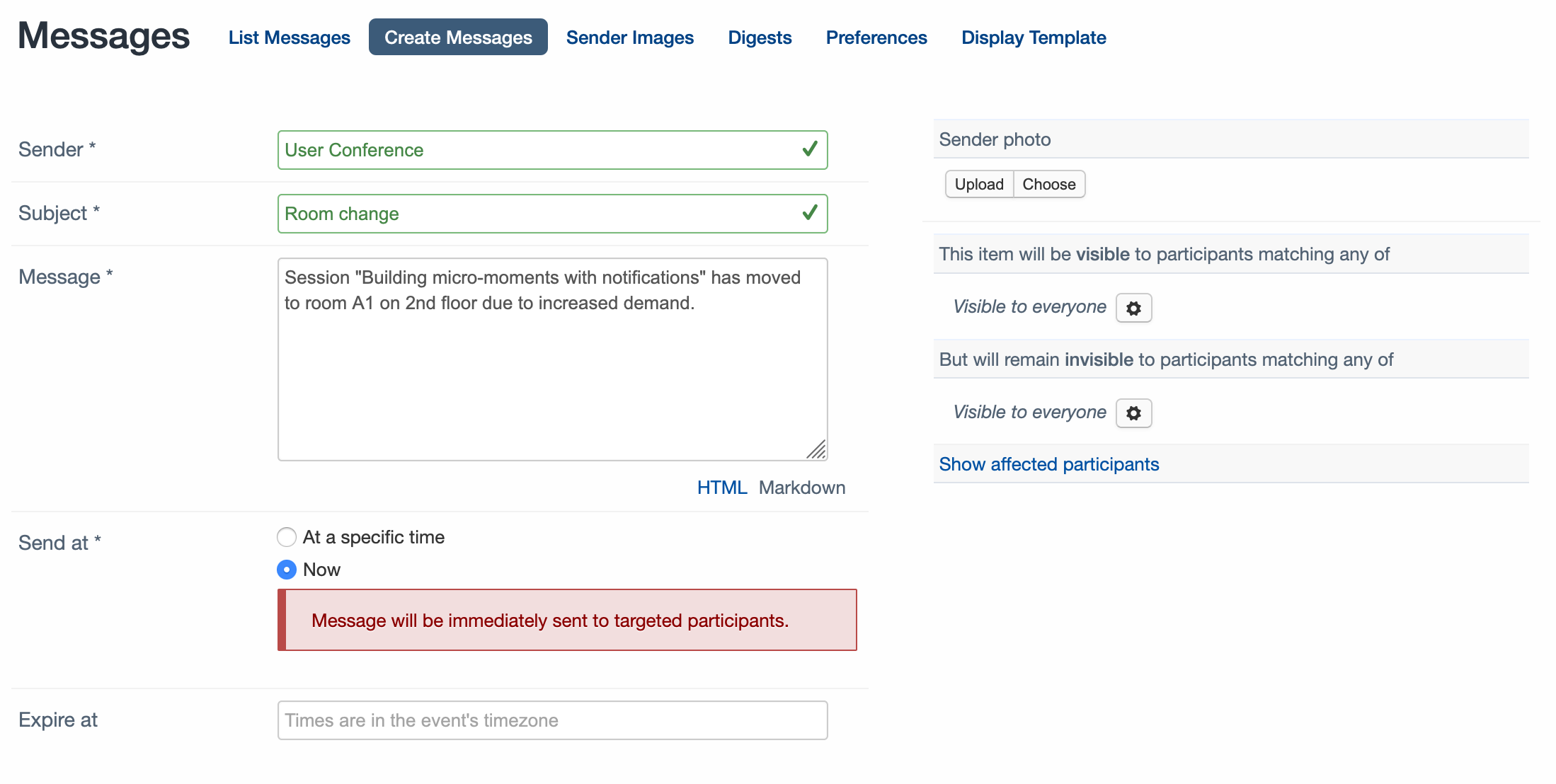 From Create messages you can draft your message before sending it out. You can select a proper subject and a relevant message body to it. The text in the message body can be formatted in Markdown or HTML style. Also, you are able to add a sender name and a sender image so you can identify yourself. Furthermore, in order the message to be delivered on time you can fill out "Send at" field and if you would like to disappear after some time you should fill "Expire at".
Please note that all times in Backstage are by default the event's time zone and leaving the two fields empty will deliver the message immediately without hiding it from the App in the future.
To schedule the message to appear at specified time in timezone in which users are, use the "Send in user' timezone", note that it will take 24 hours for the message to reach everyone and that you cannot schedule such messages for the current day.
If you need to send a message immediately to everyone choose "Now" for "Send at", this will immediately send push notifications to all targeted users.
You can also add a specific document from Backstage. Moreover, you can target the message in order to limit the group of people who can see it.
Notes
Scheduled messages delivered in event/instance timezone work even when the user device is offline, but for that they need the app to be synchronized after you've created them.
If you schedule a message and then set a new sending time - the users need to open the app at least once from the moment the time was changed to the newly set time, in order the app to synchronize and to trigger a push notification. Otherwise, the users will not receive a push notification and the message will go straight to their inbox.
Scheduled messages delivered in users' timezone and messages set for immediate delivery work only if user's device is online and connected to the internet
Timezone-aware scheduled message need to be scheduled one day in advance. Messages will be delivered starting when specified time is reached in the first timezone, UTC+14, and from then on the message will be delivered every hour
Users without timezone setting will receive the message in the GMT timezone