Discover screen provides a quick glance at currently relevant information for the participant. Depending on time of day and content available to the participant it will show different data.
Live Session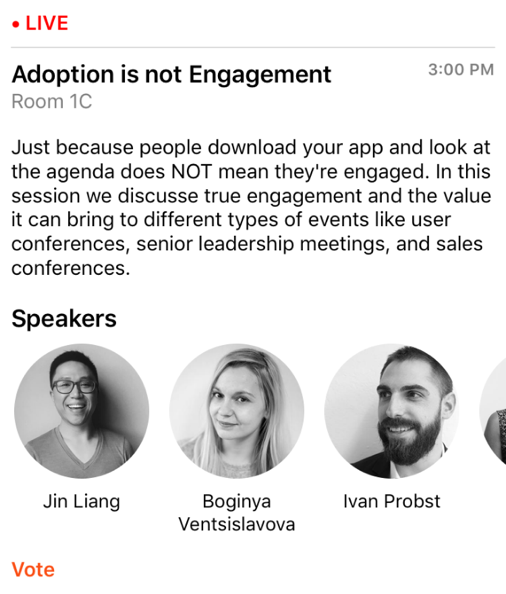 Whenever there is a live session its details will be displayed at the top of the screen. Quick links polling, Q&A and word cloud will be displayed too if linked in Backstage.
Upcoming Sessions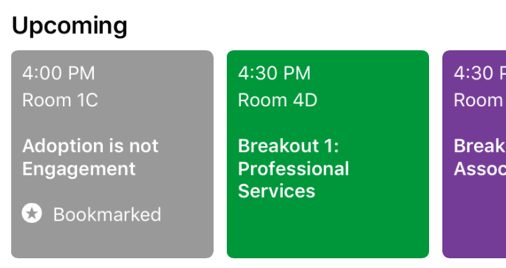 Any immediately upcoming sessions will appear just below the live session. At the end of the day, this section will be called "Tomorrow" and will display couple of early-morning sessions.
Trending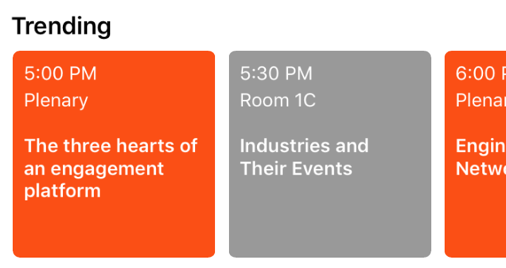 On events with large number of sessions, frequently viewed sessions will be promoted on the Discover screen.
Topics

At the end of the screen, all topics (tags) will be displayed with links to view filtered session lists. You can choose the order in which they appear from the Sessions' Preferences screen in Backstage.
Disabling the Discover Screen
If your instance doesn't have enough sessions or data to make the Discover screen useful to your participants you can disable it from Backstage:
Navigate to Sessions > Preferences
Uncheck Enable Discover screen