Summary
The Leads module is designed to help exhibitors capture more leads from participants during events. It allows sales representatives to easily scan SpotMe QR codes on participants' event badges or apps.
Scanning the code copies the event participant's information into a pre-configured lead evaluation form. This form appears on-screen after scanning and can be directly completed by the representative with additional lead information before being saved.

To note, the lead evaluation form exists as a default form, but can be tailored for each exhibitor depending on the information that they wish to collect.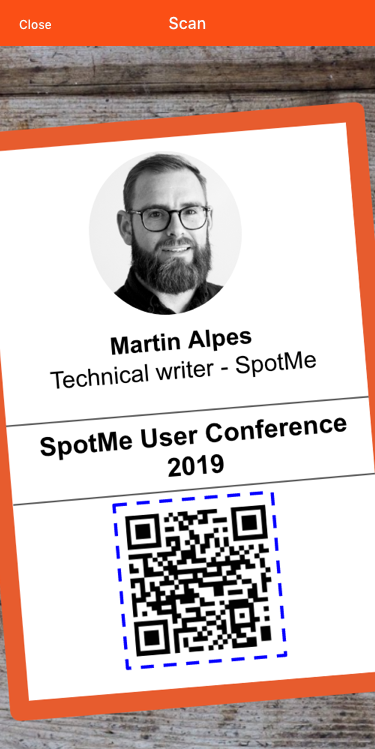 .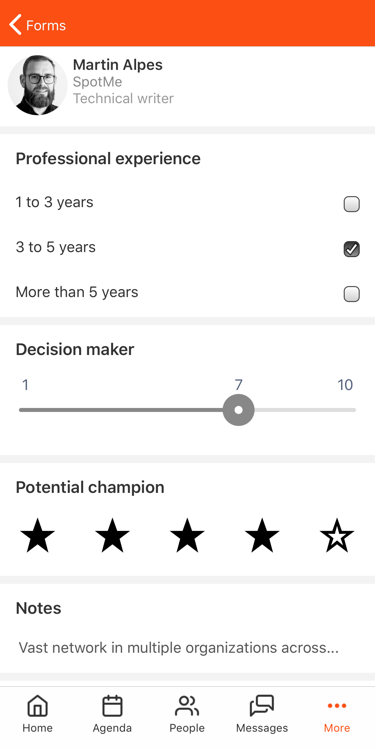 Stored leads can be found in the "Leads" section of the app, and can be edited at any time by the representative. Captured leads can be downloaded from the workspace via the app as a V-card, or via Backstage as an Excel file, and easily added to a different workspace.
Configuration
Setting up the Leads module
To use Leads, app users will need to be set-up as representatives in the Sponsors module. This will give them access to the Leads tab in the navigation bar:

In the Backstage menu, go to the Sponsors module.

In the list, select the sponsor that the representative should be added to.

On the right of the screen, in the Representatives field, either 

choose a representative among the existing users of the workspace, or 

create a user to become a Representative.
The representative will now see the Lead tab in the app navigation menu.
Creating and linking the lead evaluation form
Lead evaluation forms are created in the same manner as any other form in Backstage. Please refer to the Getting started with forms article for more information on this.
Once the lead evaluation form is created, go to the Leads module > Preferences tab, and select the lead qualification form in the drop-down list.
Accessing, editing and downloading captured leads
To access the list of captured leads, in Backstage, go to the Leads module.

To export the list of captured leads, click on the Export XLS button to the right of the screen.