Now that you have a better idea of what SpotMe Express is, read on below to see how a webinar looks for the various types of participants.
Depending on whether you are the host, moderator, speaker, or part of the audience, what you can see and do in the webinar will vary.
Whether you are the host, speaker, moderator, or audience, you can always see the live claps, the number of viewers, the approved Q&A questions, as well as any launched polls and results.
How does the webinar look for the host?
Hosts have full control of the webinar, and therefore have access to all the controls in the webinar.
This ranges from creating the webinar, adding speakers and content, starting the broadcast, managing speaker transitions, launching Q&A questions and polls, to ending the broadcast: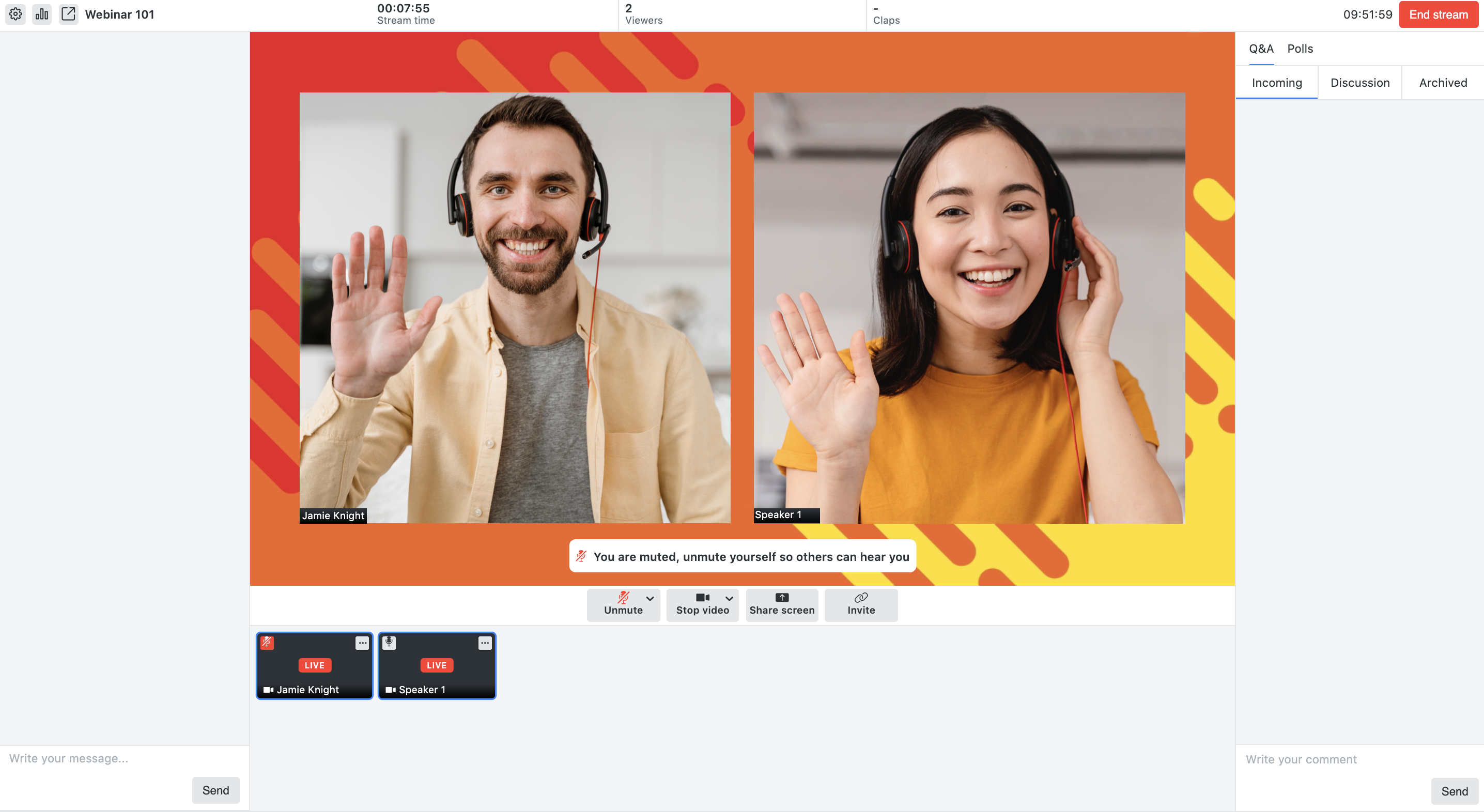 How does the webinar look for the speakers?
Speakers, who can access the webinar using their browser via a link, can join up to three hours before going live. They have full control of their camera and mic, and can chat privately with the other speakers/hosts/moderators present in the webinar room, both before and during the live broadcast, via a specially dedicated chat panel to the left of the screen.
Speakers can also screen-share content, see upcoming approved Q&A questions, and view poll results.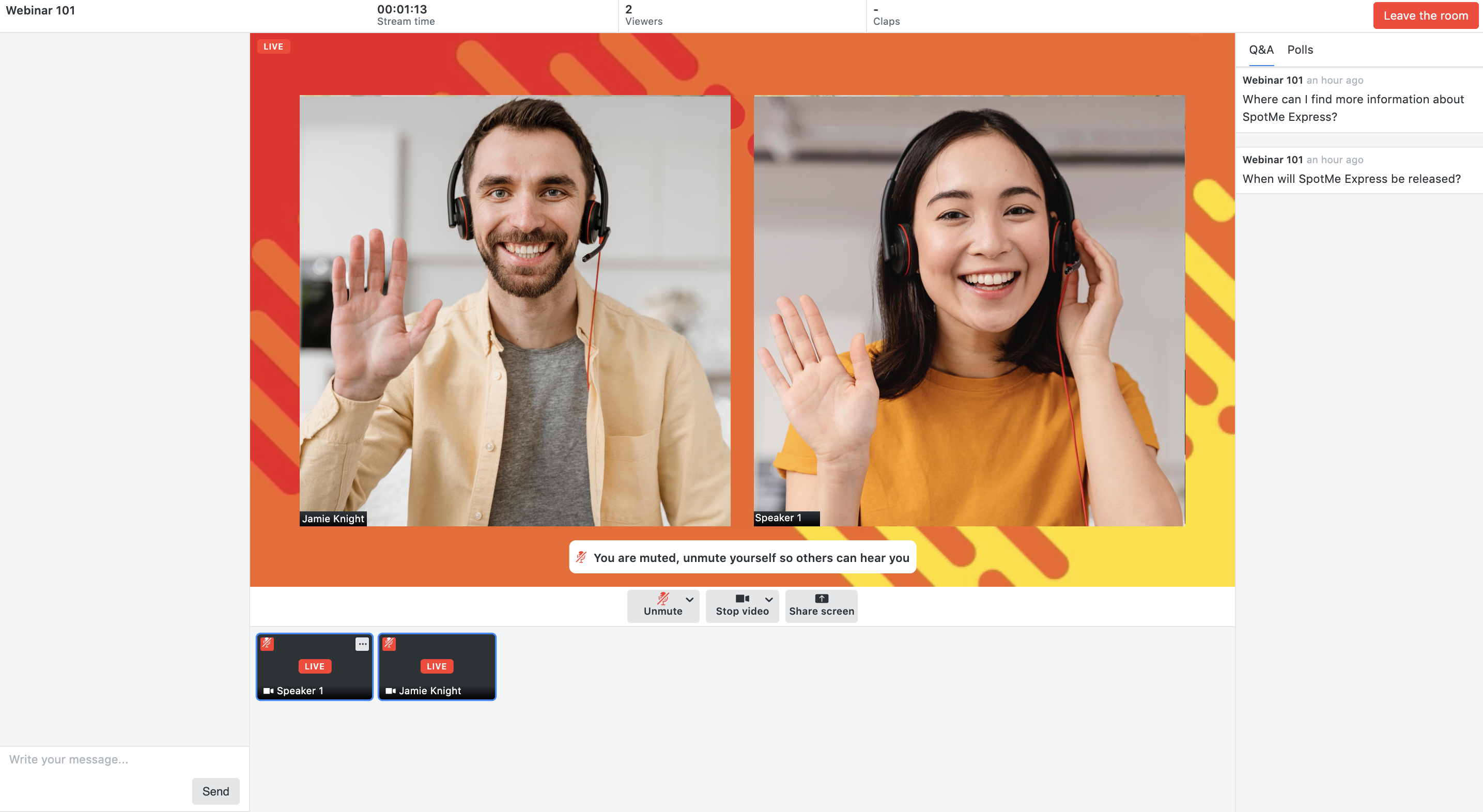 How does the webinar look for the audience?
For the audience, SpotMe Express webinars offer a branded, engaging and interactive experience.
The main focus for the audience is of course seeing the host/speakers and any shared content, polls, or Q&A questions.
To this effect, the audience can choose to use full screen or not, pause and restart the webinar in the player, and turn on and off the sound.
Beyond that, the audience can clap and see the other participants applaud in real-time. They can also see the full list of other participants who are in the audience. Finally, the audience can ask Q&A questions and answer live polls.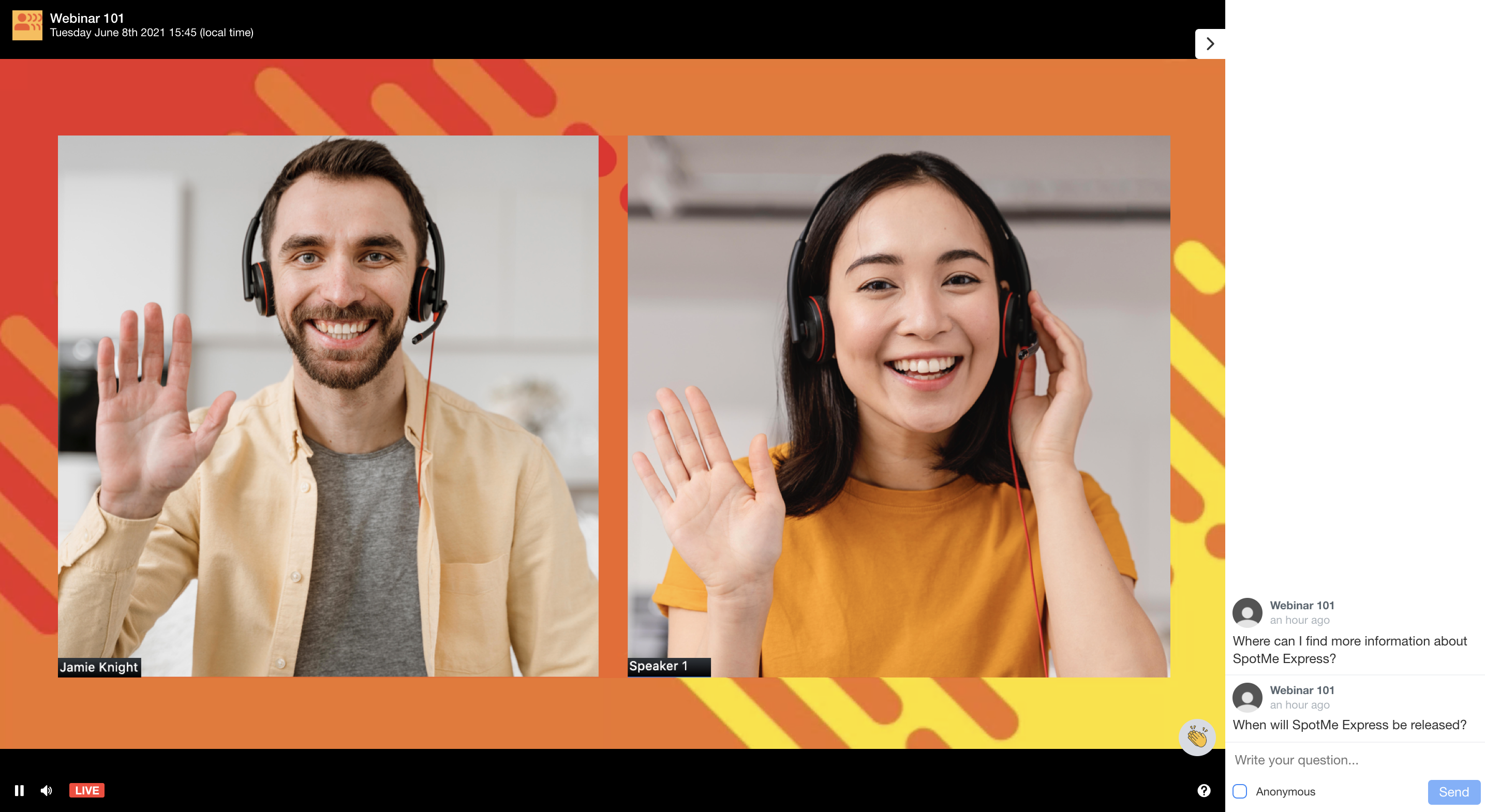 How does the webinar look for the moderator?
The moderator's role is to assist the host during the live stream. The moderator will not participate as a speaker in the session, but will act behind the scene and focus on moderating Q&A, launching polls, and/or managing live transitions between content or speakers are being broadcasted.
As such, moderators have the same controls as the host, except that they cannot start/end the broadcast (they can instead leave the room).