Tip: Compare your options, check out our overview of the live simultaneous translation options.
Adding closed captions or subtitles to your live stream will help you make your live sessions accessible to a much wider audience.
Subtitles appear in text format in real-time on the screen during the live stream, detailing exactly what the speakers are saying.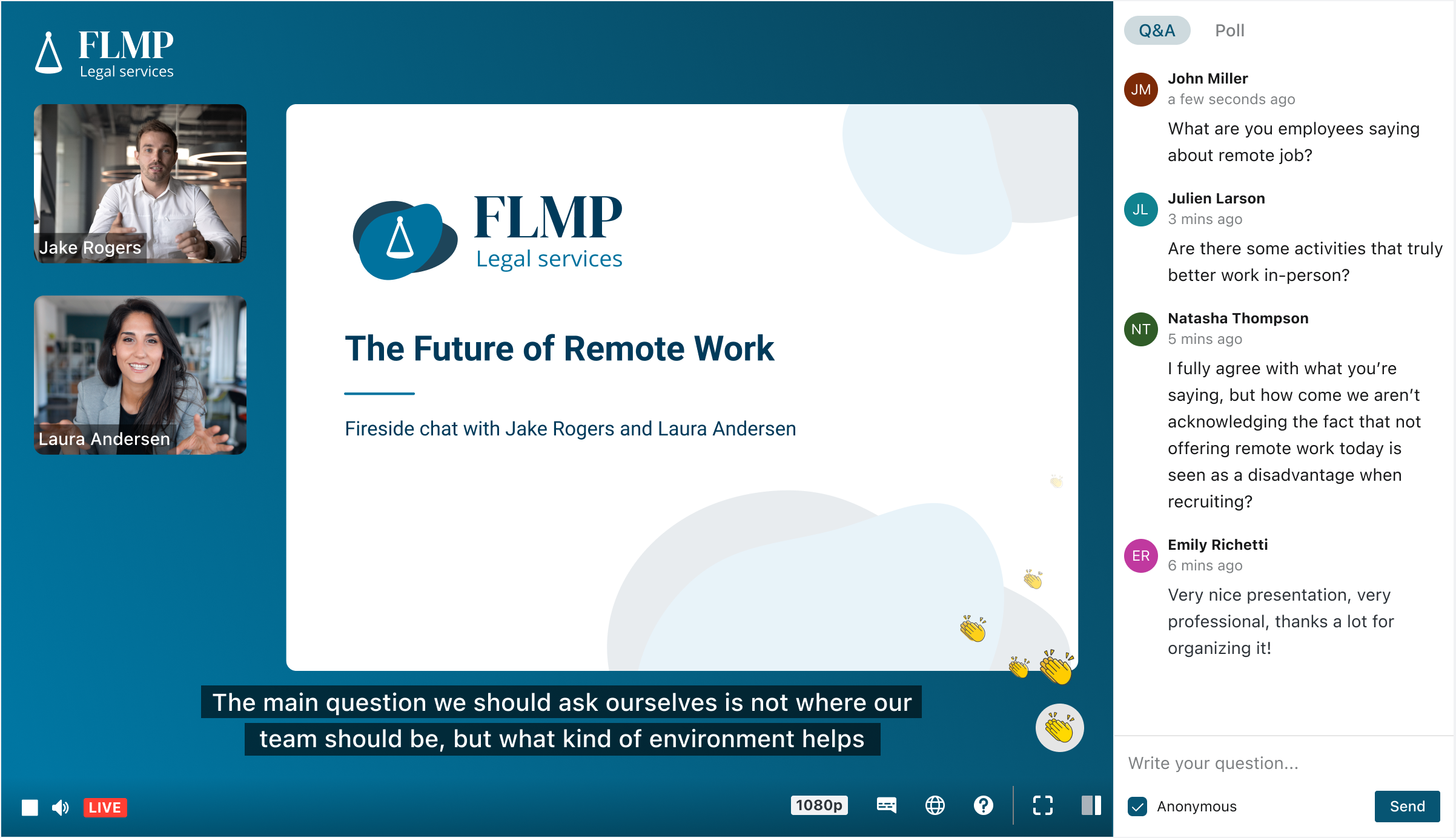 SpotMe Streaming (RTMPS), SpotMe Studio, and SpotMe Express webinars allow you to display captions for the language spoken in the video, as well as translated subtitles in up to 3 other languages.
Once the subtitles are enabled in Backstage on your live stream, your attendees will be able to choose whether or not to display the subtitles in the app, and select the language they prefer out of those made available.
Note: Closed captions are supported on both the web app and the mobile app.
Tip: Take a look at our FAQ section at the bottom of this article for more information on how closed captioning work on the SpotMe platform.
Selecting a captioning proxy
SpotMe Streaming and Studio support captions use the CC-608 standard on our RTMP and RTMPS endpoints for live streams.
Please reach out to your SpotMe contact to help you set-up closed captions. In the meantime though, below you will find more information on how this works, as well as a dedicated FAQ.
Captions workflow using EEG live captioning
The below flow chart provides a breakdown of how the different components work together as part of adding subtitles to your SpotMe live stream using EEG live captioning. Here you can see that there are five main steps involved:
Connect the SpotMe live stream to the EEG live captioning platform.
Create the source (or spoken) language captions from the live stream audio, in EEG Lexi.
Translate the source captions into multiple target languages, using EEG iCap.
Add and synchronize the captions and translated subtitles with the live stream, using EEG Falcon.
Send the live stream back into SpotMe, with the available captions/subtitles added for your audience to choose from.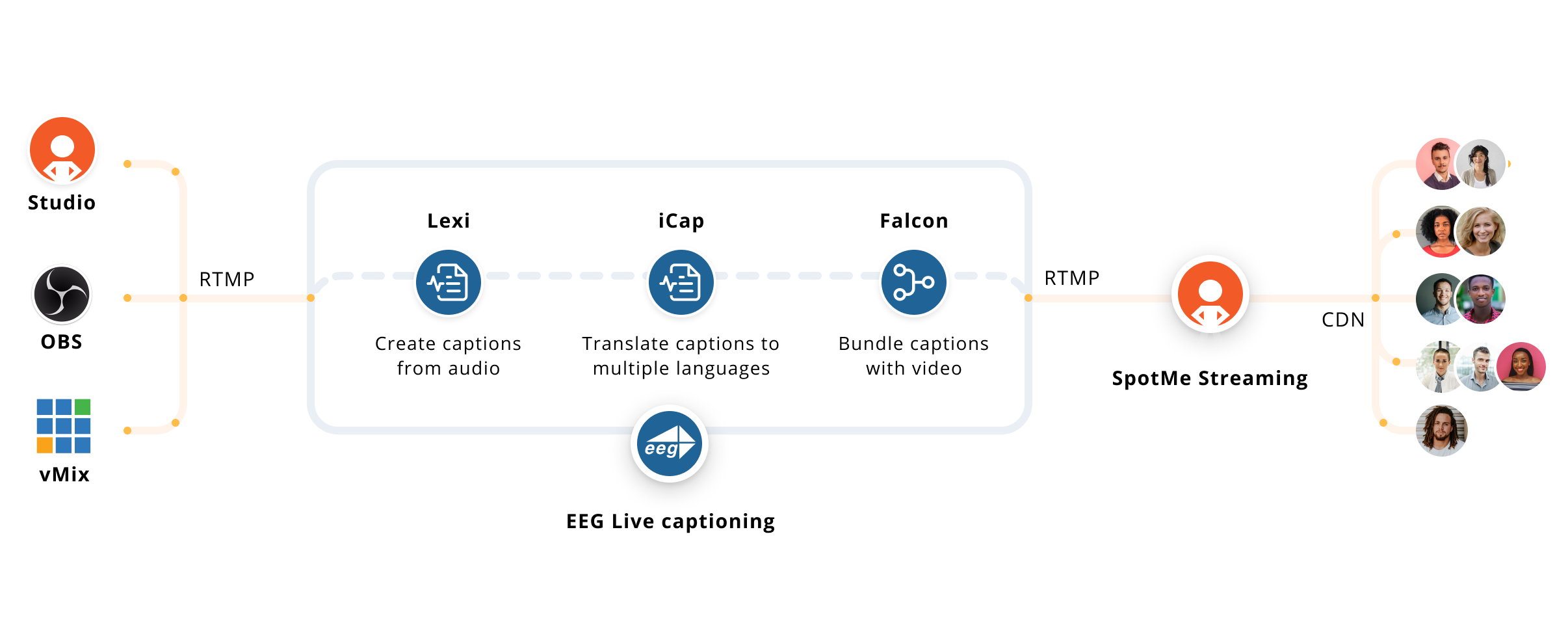 FAQ
Do captions work with Studio / RTMPS / SpotMe Express / StreamYard / OBS / etc?
Captions work regardless of which broadcasting software is being used.
This works because captions are generated in the cloud from the audio of the live stream that is being sent by the broadcasting software to our captioning service.
How many languages can be translated for a single stream?
A live stream can have up to 4 captions or subtitles. One subtitle channel is used for the original (spoken) language and the remaining three can be used for translations. This a technical limitation of the standard used for live streaming captions (CC-608).
1 language for the closed captions of the (single) spoken language:
English (US, UK, AU)
Spanish (Mexico)
French (France, Canada)
German
Italian
Portuguese (Brazil)
Up to 3 languages for the subtitle translations:
English
Danish
German
Spanish
Finnish
French
Italian
Maori
Norwegian
Portuguese
Swedish
Do live captions work with video breakouts?
Captions do not work with video breakouts. A user can however use alternative tools for breakouts, such as Google Chrome's Live Captions.
Are captions available for on-demand videos?
Captions generated during a live stream are automatically available for the replay of that live stream once it is published on SpotMe.
Can the generated captions and subtitles be downloaded from Backstage?
No, captions cannot be downloaded from Backstage.
What kind of delay do captions add to the live stream?
Captioning adds an additional ~10 seconds of delay to the live stream. This brings the total live stream delay to around 40 seconds.
How accurate are the captions? Do they work with different accents?
EEG estimates up to 96% accuracy rate for the generated captions. While the machine-learning models used to transcribe the text are trained on a wide set of voices and accents, it's not possible to guarantee that captioning will work the same way for everyone.
To improve the captions accuracy, here are a few general tips for speakers:
Use a good quality microphone in a room with no background noise.
If you are a fast talker, try speaking a bit slower than usual and pronounce words clearly.
Have just one person talking at a time.
The closed caption accuracy can be improved by adding industry/specialized jargon to the system language model (for example acronyms or brand names), to help the tool recognize those words.
Is it possible to caption a session where each speaker speaks in a different language?
Sessions with people speaking multiple languages are not supported. For captioning to work everyone in the session needs to speak the same language.
For cases were speakers speak different languages, we recommend using Interprefy instead.
Do speakers see the live captions in Studio?
Speakers and event organizers do not see live captions in Studio. They are only visible to attendees in the web app.
This is because captions are added in the cloud, after Studio sends the composed audio from all of speakers to the captioning service. For speakers that need to see captions in the Studio, we recommend using Google Chrome's Live Captions.
Are closed captions supported on mobile apps?
Yes, captions are supported on the SpotMe web app and mobile app, using SpotMe Anywhere, SpotMe Express and SpotMe Content Hub.