When using SpotMe Studio or RTMPS streaming, you can add remote simultaneous interpretation to your live streams, powered by Interprefy.
Remote interpretation can be provided in the following languages
To get started contact your SpotMe account manager with following information:
Date and time when you need interpretation.
Event type/format (presentation, panel discussion, internal meeting, etc.).
Subject matter/specialization (industry or topic the stream is about).
Language translating from (if it's not English).
Languages translating into.
Once the live interpretation service is set-up, simply activate the Live interpretation option in your stream(s) in Backstage, and enter the provided Interprefy key.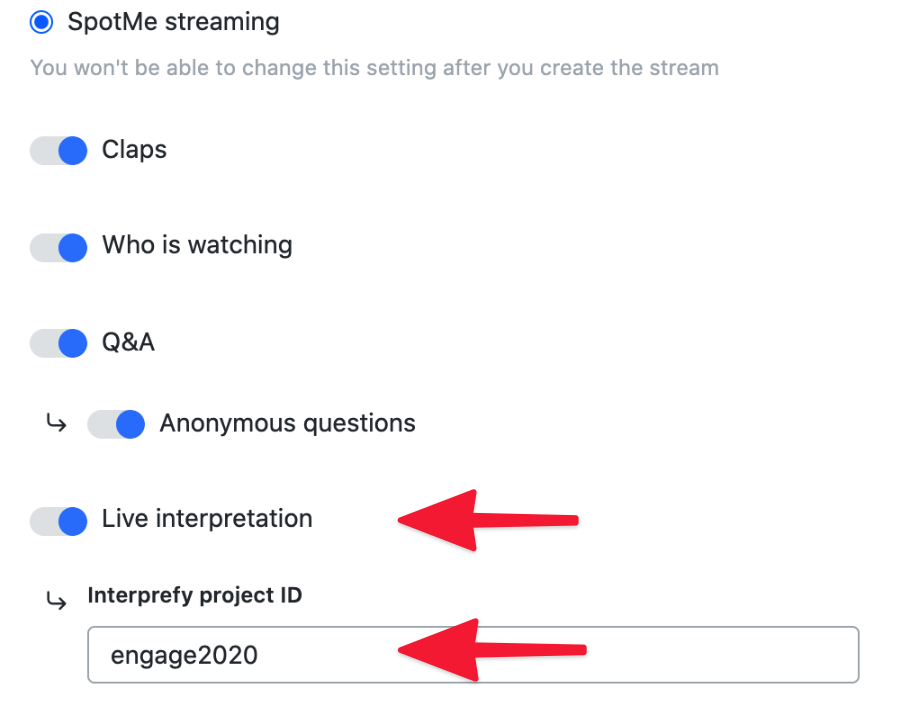 You will then have to invite interpreters to your workspace and instruct them how to join the live stream, so they can follow along the live stream and provide interpretation.
Note: Do not invite interpreters to your Studio, StreamYard or Zoom meetings. This would make their interpretation come 30s earlier in the stream than expected.
Your audience will simply need to use the 🌐 Change language button on the live stream player to select their desired audio language. In doing so, the live stream audio is muted and the live interpretation begins in the selected language:
Notes
Live interpretation is only available via SpotMe Studio and SpotMe RTMPS, and as a paid add-on for customers that have the SpotMe Anywhere plan.
Live interpretation will not add any additional delay to a broadcasted live stream.
Live interpretation will not be included in stream recordings, as it is only available live.
Live interpretation is only supported in Chrome, Firefox, Edge, and Safari browsers on desktop. It is not supported on mobile apps or mobile web.
Pre-call test interface in Interprefy should be disabled.
NEXT STEPS
Find out how to add clapping to your stream.
Find out how to add and run Q&A in your stream.
Find out how you can add and launch polls in your stream.