What is data residency?
Data residency refers to the physical or geographic location of an organization's data. It also refers to the legal or regulatory requirements imposed on that data, based on the country or region in which it resides.
In practice, organizations specify that their data must be stored in a location of their choice. That location's legal or regulatory requirements in turn have a great influence on where businesses keep your personal information.
Why is this important?
Why? Because data residency laws vary by country or region; for example GDPR for the European Union (EU).
If the region or country has specific data sovereignty laws, organizations have to comply with them. It's therefore important to know where the services you use are storing your data.
In addition, organizations may have their own internal regulations on where data is stored. Data residency options help you comply with these legal and/or internal requirements.
How does this work for SpotMe workspaces?
Data residency at SpotMe refers to the physical or geographic location of your workspace data.
Data residency is fully transparent to the user as it is chosen when a workspace is created, and cannot be changed afterwards: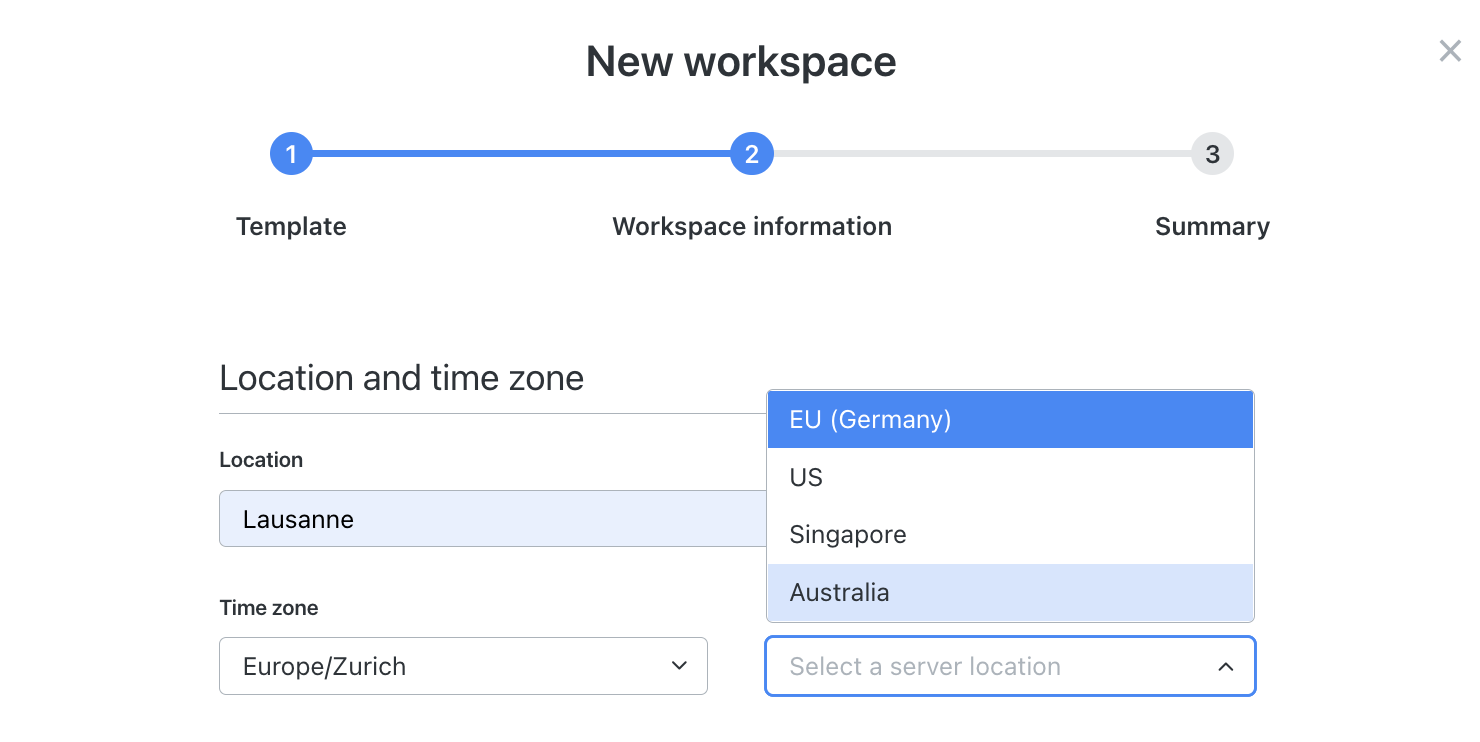 SpotMe offers data residency in four locations that are each different legislative entities:
European Union (Germany)

United States

Singapore




Australia
The data residency (data location) that you select for the workspace will also determine which SpotMe infrastructure your workspace belongs to.
How can I see what
data location
my workspace is hosted on?
You can see which data location your workspace is located on, based on the hostname prefix in the web app or Backstage URL:
| | | | |
| --- | --- | --- | --- |
| Hostname prefix | Region | Physical location of data centers within availability zones | Minimum number of availability zones |
| eu | European Union | Germany | 3 |
| us | United States | United States | 3 |
| ap | Singapore | Singapore | 2 |
| au | Australia | Australia | 2 |

What is considered workspace data, and what is not?
Workspace data stored in the data location
The following categories of customer data will be stored at rest in a data center within the customer's selected region as of the date data residency is enabled:
Workspace data (ie. sessions, forms, speakers, sponsors, etc.).

Workspace user data.

Files (ie. photos, documents, etc.) uploaded to SpotMe.

User generated content (ie. chats, feed posts, session registrations, notes, etc.).
Note: On-demand recordings of live streams recorded through SpotMe RTMPS are distributed via CDN (Content Delivery Network), so we cannot guarantee the location of stream recordings.
Out of scope data
In order to provide the required functionalities, certain data sets such as Backstage organization names, Backstage users, video streaming and usage analytics are stored centrally in the EU (Germany) location, unless otherwise specified in the SpotMe sub-processors list (go.spotme.com/subprocessors).