Before configuring a new Steps Activity, you must install the Activity Challenge module and configure the Game's objectives. For a detailed explanation on how to configure them, please refer to the How to use Activity challenge article.
Summary
The Steps Activity is a challenge where the system will award points to the participants who walk a certain number of steps in a timeframe. As an event host, you will configure the activity to split the timeframe into hours, days or the activity duration and then, for each split, the system will analyze the steps each participant has made and will award him with X points for each Y steps. Afterward, the system will sum the points up for the total points. The values for X and Y are configurable. 
Configuring the Steps Activity
To configure the Steps Activity, create a new activity as described in the "Setup activities" section of the How to use Gamification article, select the Steps option from the "Provider" menu as shown below: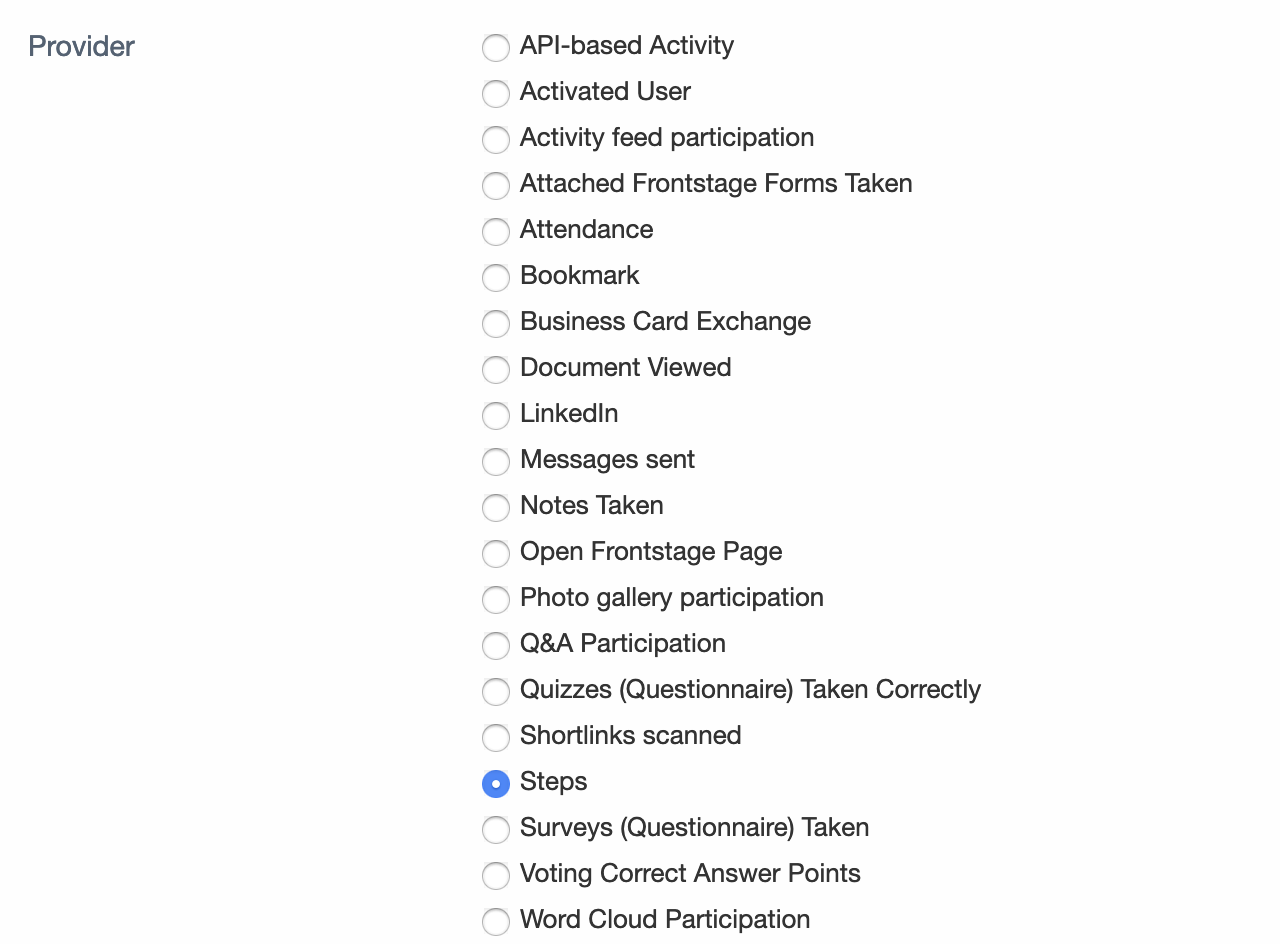 And complete and save the required information:
Name: The activity name
Content: The activity description that will be visible to participants.
Activity duration: The activity start and end dates and times.
Points per steps: The number of steps the participants need to make in a timeframe to gain a certain number of points.
Timeframe for points: The timeframe used to split the activity duration up to calculate and award the points. The available timeframes are Activity duration, Day and Hour.
Additionally, you can use the following parameters to create a richer algorithm to award points:
How many points to earn per item done for this activity: A value to multiply the awarded points. If not provided, they are not modified.
Threshold: The maximum amount of points awarded per user.
How many points earned when this activity has been completed: Amount of points to award when a user reaches the threshold.
Limitations
When using a Day timeframe, the activity duration must not exceed 48 days

When using an Hour timeframe, the activity duration must not exceed 48 hours

Web app does not support the Steps Activity Challenge
Changing any parameter on a running activity will reset the participant's points
To activate the Steps Activity Challenge in branded apps, please contact support or your account manager.