Summary
OBS is an open source software that you can use for live streaming via SpotMe.
You can download OBS and use it on Windows, Mac, or Linux.
Tutorial: how to configure OBS for streaming
Detailed set up of OBS for streaming
Starting your stream
Start by installing and launching OBS.
From the OBS application menu, select Settings/Preferences:



Select Stream in the panel to the left, then select Custom... from the Service dropdown:



In the Server field, paste the RTMPS endpoint URL provided by your stream in Backstage.
Enter the Stream key provided by your stream in Backstage.
Click on OK.
Once you are ready click Start streaming in OBS.
Switch to Backstage, once you see preview in Backstage, you can go click Go live to show the stream to your audience.
It may take up to 30 seconds for the preview to appear in Backstage.
Ending the stream
To end the live stream:
Click End stream in Backstage
The on-demand version of the stream is created automatically, and you can choose when to publish it by clicking Publish.
Click on Stop streaming in OBS
Recommended streaming settings
Below are instructions on the recommended settings for streaming with OBS.
Click on the Settings button, and then:
In the Output settings: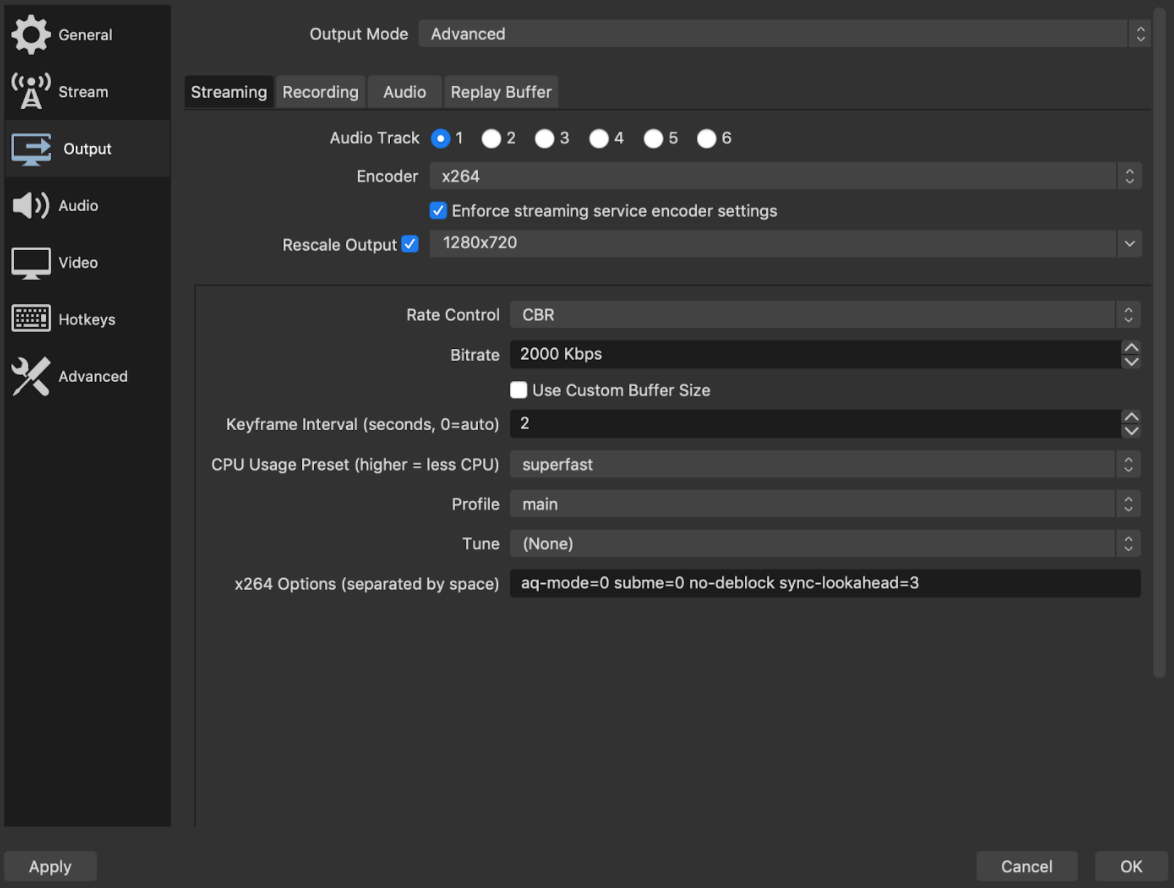 Make sure that the Encoder is set to x264.
Make sure the Enforced streaming service encoder settings checkbox is ticked.
Set the Rescale output to 1280x720.
Make sure the Rate control is set to CBR.
Set the Bitrate to 2000 Kbps.
Set the Keyframe interval to 2.
Set the CPU usage preset to superfast.
Set the Profile to main.
Set the following options in the X264 Options:
aq-mode=0 / subme=0 / no-deblock sync-lookahead=3
In the Audio settings:
Make sure the Sample rate setting is set to 48 kHz.
Make sure the Channels setting is set to Stereo.
Set the Desktop dropdown to your speaker output (for example: "Speakers (Synaptics Audio)").
In the Video settings
Set Base (canvas) resolution to 1280x720.
Set Common FPS Values to 30.
In the Advanced settings, set Recording to Automatically remix to mp4
Once the above settings have all been selected and saved, go to your stream in Backstage, and wait until you see a preview of the live stream there. When you see the preview, you are ready to start broadcasting via your stream in Backstage.
Best practices
Monitor the connectivity tracker: at the bottom right of the window, it gives you the upstream bit rate (= how quickly it is uploading data).
If you set the bitrate to 2000 kbps as per our recommendations above, you should always be upstreaming at around 2000 kbps. If it goes lower than 1800 regularly / for an extended period of time, it can mean two things:
1) you have an Internet connection issue, or
2) you have a computer performance issue.