To create a live stream, go to the Live category in the main menu and select Live streams.
Click on the Create new live stream button. The below window opens where you can add all the necessary information for your stream: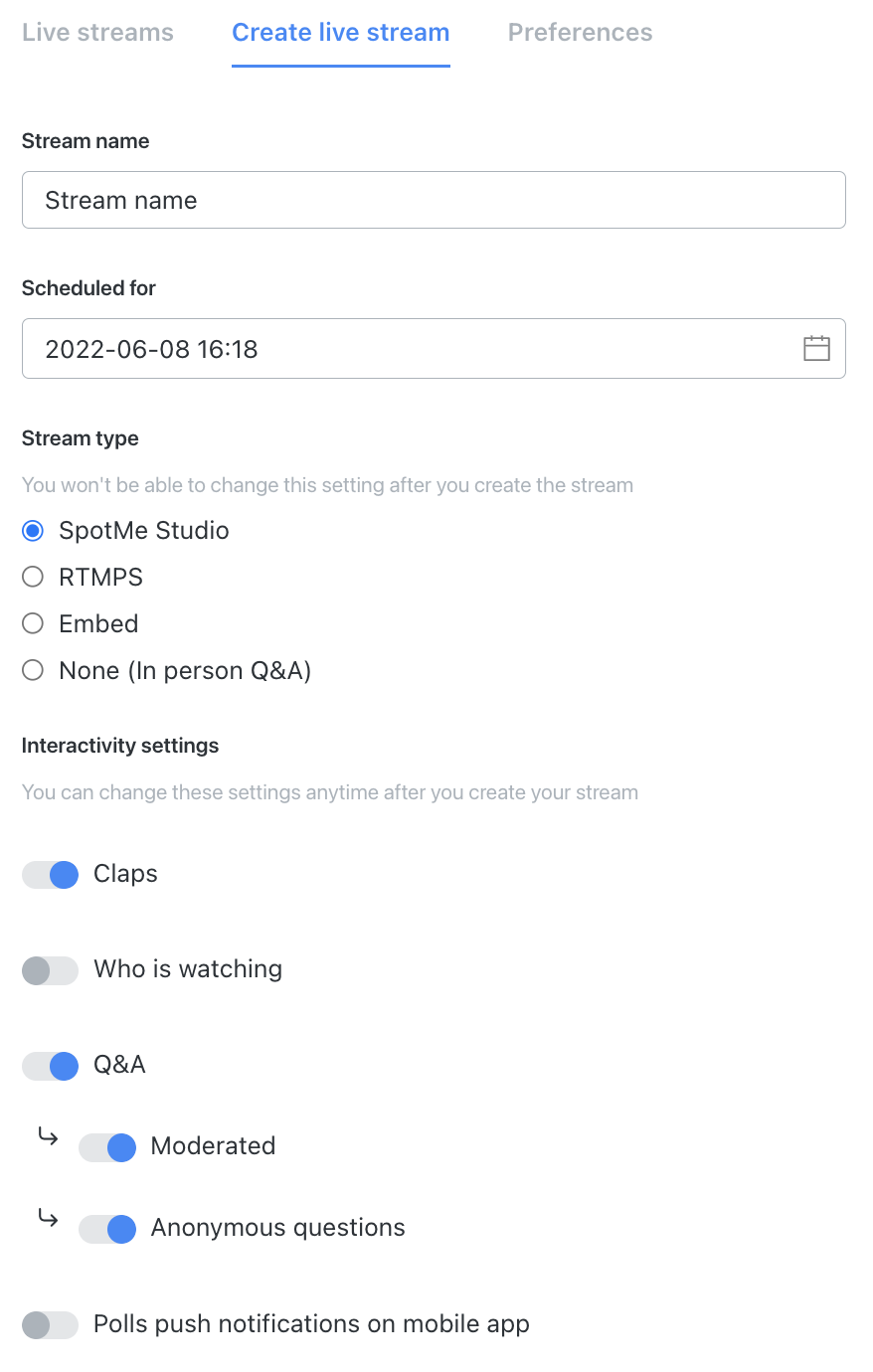 Enter the name of the stream. This is only visible in Backstage, not to the audience in the event.


Enter the scheduled start date and time, which will be used for the countdown that will appear on the live stream viewer in the event, leading up to when the live stream begins.


Select the streaming provider.
More information on the streaming providers is available in the How can I stream article.
You can also find more detailed information on how to use each of these streaming solutions in the Streaming with SpotMe Studio, RTMPS streaming, and Embed streaming sections.

Note: The None (in-person Q&A) option is only visible if it is enabled for your organization in Backstage, and is used for Q&A session at in-person events. More information
IF Streaming with SpotMe Studio or with RTMPS:
Enable the stream interactivity options you'd like to include:
- Clapping and Who is watching.
- Q&A (as well as whether participants can post questions anonymously or not, or if you want to have unmoderated Q&A).
- Polling is enabled by default, and the option called "Polls push notification on mobile app", when enabled, will send poll notifications to any attendees who are not watching the live stream and who have activated the mobile app).
- Live interpretation.

IF streaming with Embed (third party):
This option does not allow you to use the above mentioned options.
Enter the information as described below:
Height/Width: This is the minimum height and width for the stream viewer when minimized in the web app. As you are streaming through a third party platform, you'll need to enter the height/width (aspect ratios) of the third party stream.
Stream URL: A link to an HTML5 embed. See instructions for Vimeo, YouTube live and others.


Once you have entered the stream information, selected the provider, and enabled any options you want for your stream, click on Save

.

This will open the newly created stream where you can continue with the stream set-up.
You can at any time access the stream settings, and modify any of the previously selected options.
NEXT STEPS
Learn how to stream with SpotMe Studio
Use how to stream with RTMPS
Learn how to use a third party stream