SpotMe has created a live video streaming benchmark page to help you assess your connectivity to your virtual event(s).
Please visit https://test.spotme.com to help determine if you have a connectivity issue. This test could take a few minutes to complete.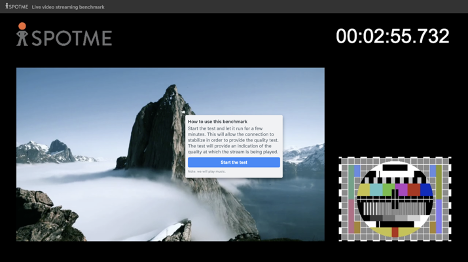 Some of the most common occurrences that could happen from this video test are:
Video quality is low.
Video is not loading or buffering.
Video is freezing or stuttering.
No sound or sound quality is poor.
Is my browser supported.
We invite you to check our knowledge base article to help you troubleshoot if you face any of those issues: Troubleshooting for app users.
Tips for event organizers
SpotMe recommends that event organizers share the https://test.spotme.com URL with your end users. Some suggested ways of sharing this URL are:
Share the URL on a registration page so users can test their connectivity in advance.
Share the URL in your email invitation to participants.
Share the URL with your support team so that they can also guide users.
Add the URL as a menu navigation option for users to test during a live event if they are experiencing connectivity issues.
Tips to improve your connection
SpotMe suggests the following tips for those experiencing connectivity issues:
Switch to a new WIFI network or 4G, depending on which is currently being used.
Switch to a wired Internet.
Stop other network intensive activities on your computer/office (file downloads/uploads, other streaming).
Use a SpotMe preferred internet browser (Google Chrome or Firefox).
Limit the number of browser tabs open in your internet window.
If you are on WIFI network or 4G, move closer to the router or a window to potentially try to get better connectivity.
Other
If you need more help, feel free to reach to our support team.