Summary
For sessions, or for any dedicated moment during your digital experience or a virtual event such as brainstorming sessions or workshops, you may wish to allow teams and/or speakers to talk to each other via a video call.
In this article we will walk you though the process of setting up video breakouts in Backstage. Video breakouts are a no-download video conferencing solution that is built into Backstage and SpotMe's web app (via desktop). They are not supported on mobile apps.
Note: Video breakouts is currently a beta module. We are actively working on improving it based on your feedback. You can sign up to try it out from the Marketplace tab of your workspace in Backstage.
Scheduling a video call
Go to the Sessions module in your workplace, and select the session where you wish to add a video call. Now, click on the Schedule video call button (to the right) and then Save your changes.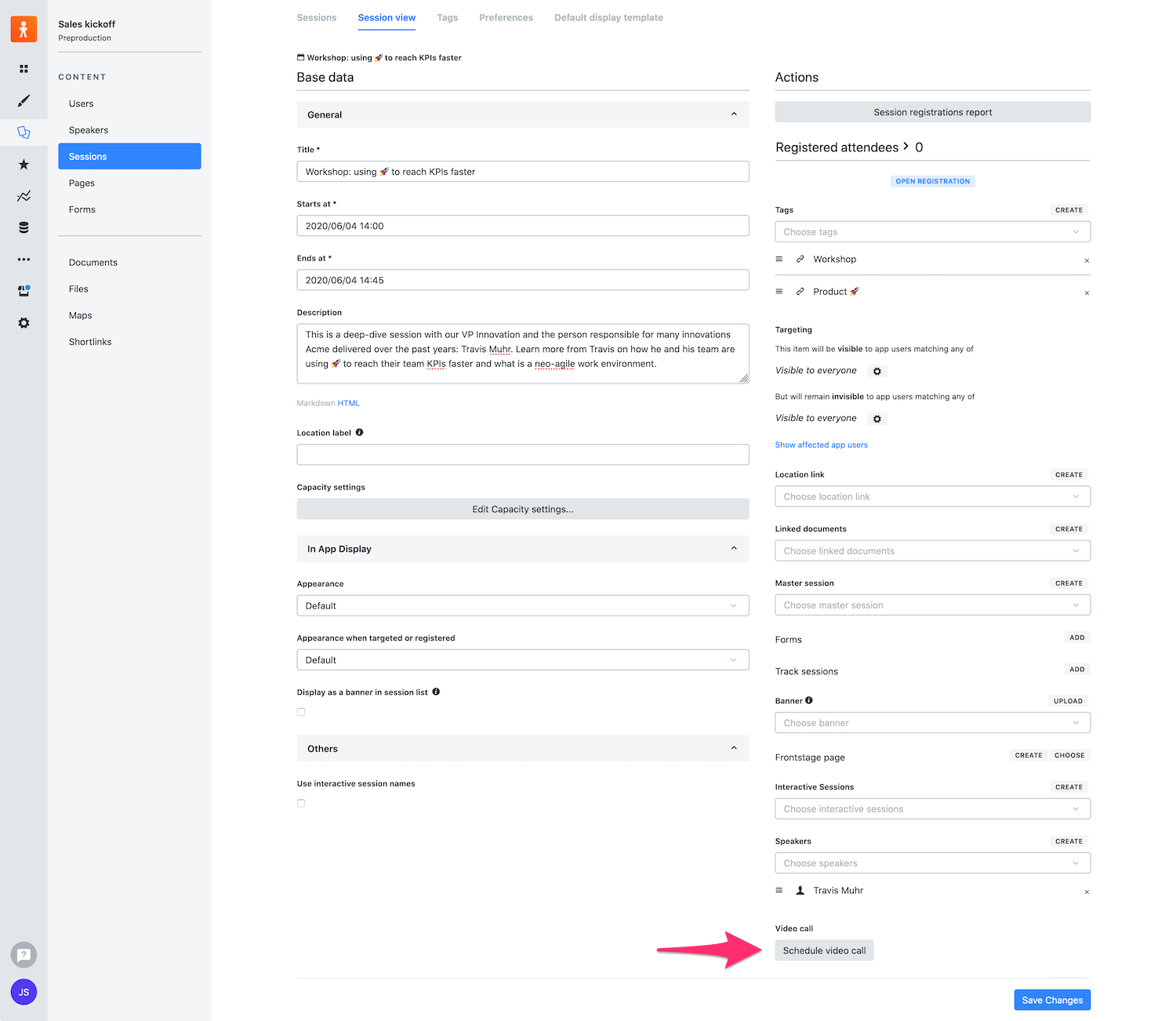 Joining a video call
Once the video call is scheduled in a session, as a Backstage user you can join the call by clicking on Join call in the session page in the workspace.
Participants can simply join the call by navigating to the session in the event: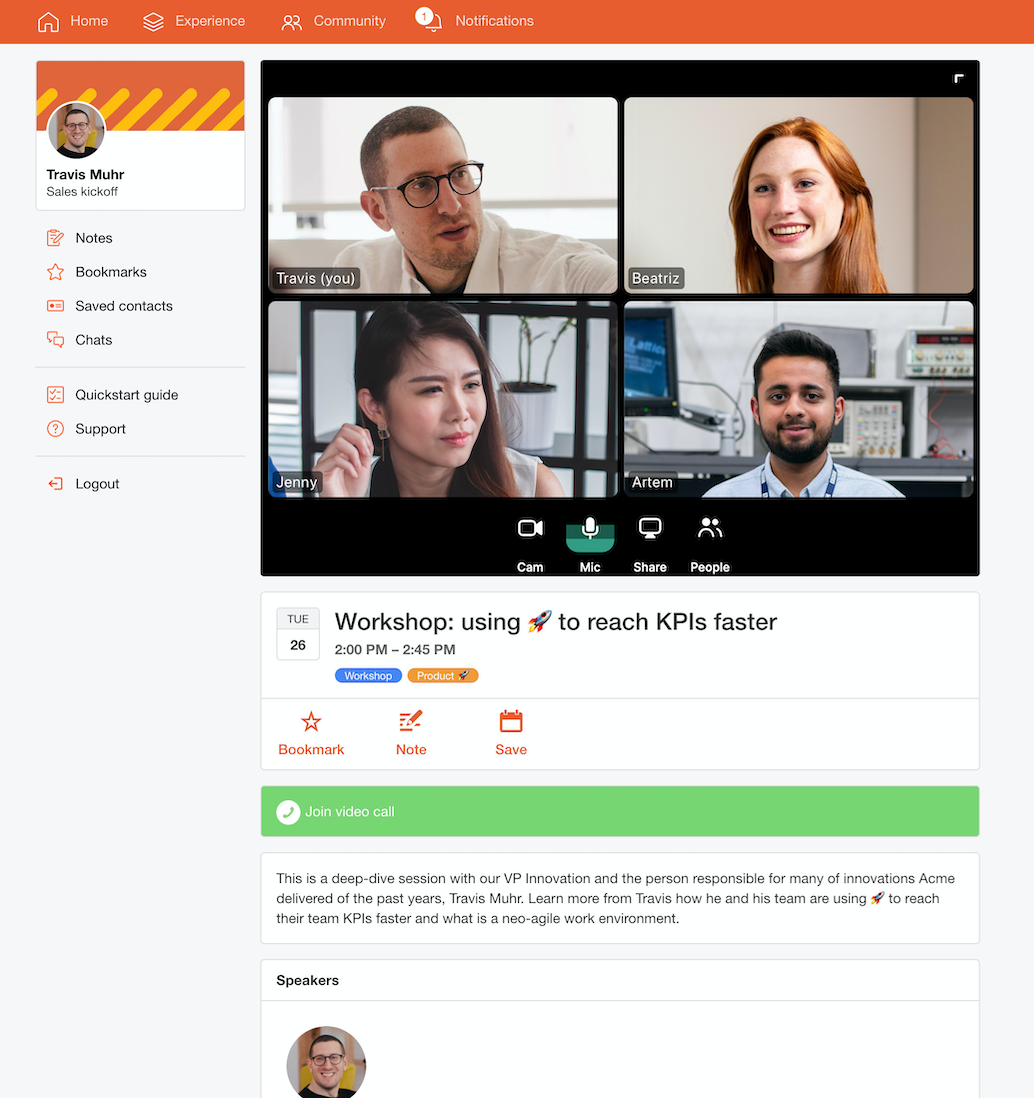 Technical notes and requirements
Supported systems and browsers
Operating systems:


Windows 7 or later.
macOS 10.10 or later.
Any Linux-based system with x64 architecture.

Browsers with full support:

Browsers with partial support (some features like screen sharing may not be available):


Safari 11 or later (ideally use the latest build).
Microsoft Edge 80 or later (Chromium based version only).
Bandwidth requirements
| | | |
| --- | --- | --- |
| One on One Meetings | At least 2.0 Mbps outbound and 2.5 Mbps inbound or higher. | |
| Four or more participants | At least 3.2 Mbps outbound and 3.2 Mbps inbound are required. | Due to the way peer to peer connections are designed, the more participants you add to the call the higher bandwidth you will need. |
Network requirements
For participants on corporate networks, all domains and IP ranges listed listed the Domain allow-list and split tunneling on corporate networks article have to be allowed.
Peer-to-peer networking needs to be permitted on the network. You can use test.webrtc.org to verify your network is permits this type of connections.
VPN
We do not recommend using Video breakouts with a VPN. Our recommendation is to turn off your VPN when having joining a Video breakout, and then turn it back on after finishing the meeting.
Privacy and security notices
Video breakouts are provided by our partner Video Communication Services AS (Whereby) and subject to their privacy policy and data privacy practices.
Limitations
Up to 50 users can join a video call. Use session targeting to limit who can access which video breakout.
Up to 12 users can have their video visible on the screen, other users will be able to talk with the room using audio only. Video is enabled for users as they join the room.


Users beyond the first 12 who cannot share their audio can use their microphone at any time as long as they have enabled it. If they try to share their camera they will get a notification saying that the limit is reached. An active participant would need to turn off their camera for these users to be able to share their camera

Video calls are not recorded.
There are no host controls.
Screen sharing does not share audio from the computer. Audio can be shared only when sharing Google Chrome tabs.
Troubleshooting
Can't join a video call or share video/audio?
If you are having difficulties joining a video call or sharing your webcam or microphone, follow the steps below:
Make sure you are using one of the supported browsers as listed above.
If you are using a supported browser, confirm you have given the requested permissions to access your webcam and microphone.
Confirm that your browser does not have additional privacy settings that prevent it from sharing your webcam and microphone with websites.
Can't share my camera or microphone
Make sure you have give the permission to the web browser to access both the camera and microphone. Depending on your browser you should see a camera icon in the URL bar and click on it.
Make sure you close other applications that may be using your camera at the same time (other video conferencing).
Can't share my screen
Screen sharing is fully supported in Google Chrome and Mozilla Firefox browsers, where you can choose between sharing:
Your full computer screen.
A specific app from your computer.
A specific tab from your browser.
Safari currently supports only sharing your main screen.
Audio from my video is not being shared
Sharing audio from your computer is supported only when you are using Google Chrome and you share a Chrome tab.
To share a video in Video breakouts you can:
Drag and drop your video file into Google Chrome to open it as a new tab.
Click Share > Share screen in Video breakouts.
Select Chrome Tab at the top of the Share your screen popup.
Select the tab with your video.
Check Share audio in the bottom corner of your popup.
Click Share.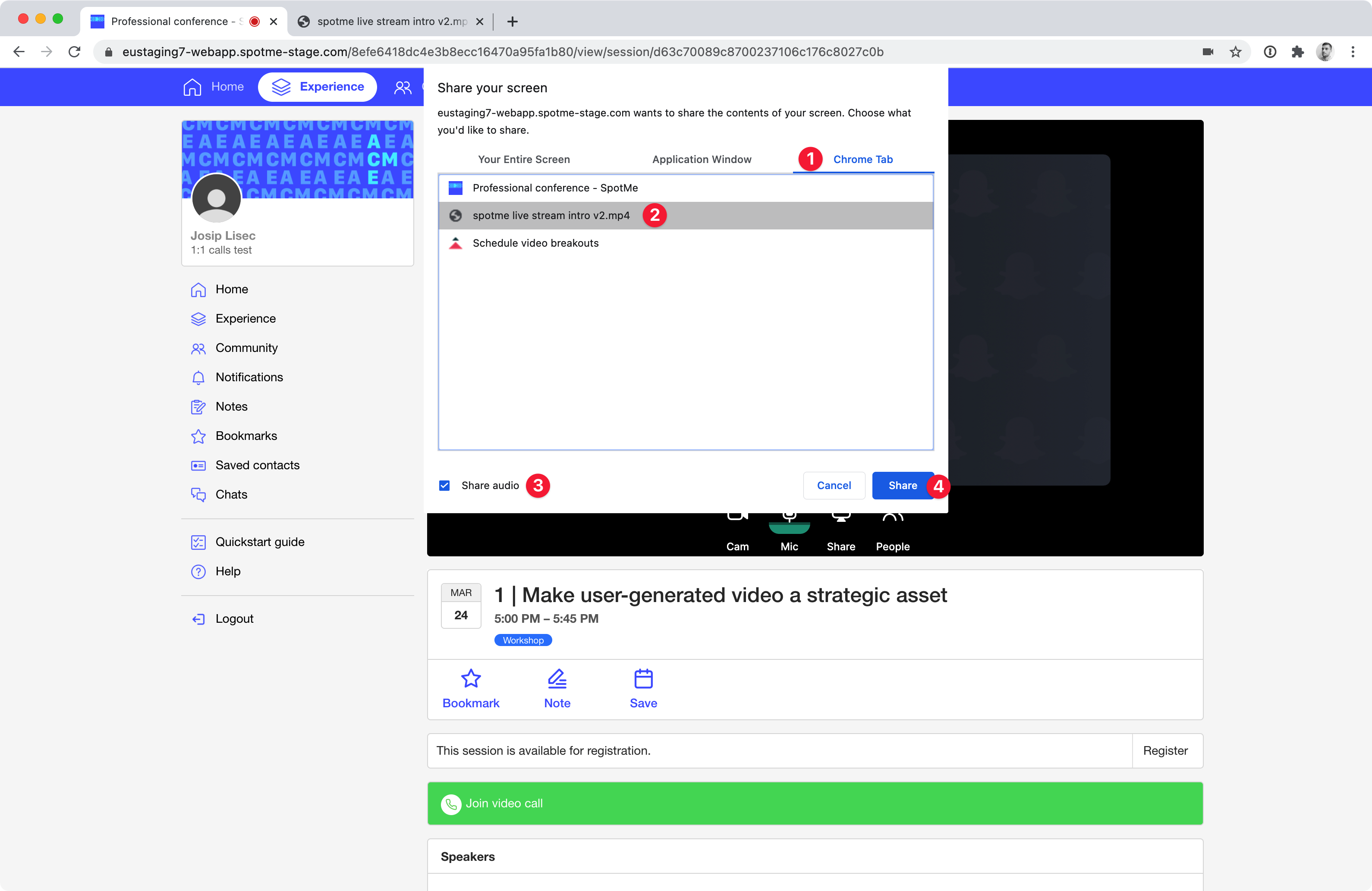 Can't join a call from the iOS or Android app
Video breakouts are currently supported only on the web app. Participants using our mobile apps will see instructions on how to access the web app (via desktop) to join the call.
Restricted use in certain countries
In a few countries (such as Russia and the UAE), we're aware of restrictions that have been put in place for peer to peer applications.
In many of these areas we've had reports from users that they have limited access to video breakouts, or that the service doesn't work for them at all.
Unfortunately because these are government-level restrictions that have been put in place on the internet, there isn't anything we can do to address these types of situations.