To get your app submitted on the Google Play Store, follow the instructions below:
1. Log into the Google Play Console
2. Create a new application.
3. Fill in the requested app information
App name: The name of the app displayed on Google Play
Default language: English (in case the app text assets are in English)
App or Game: App
Free or Paid: Free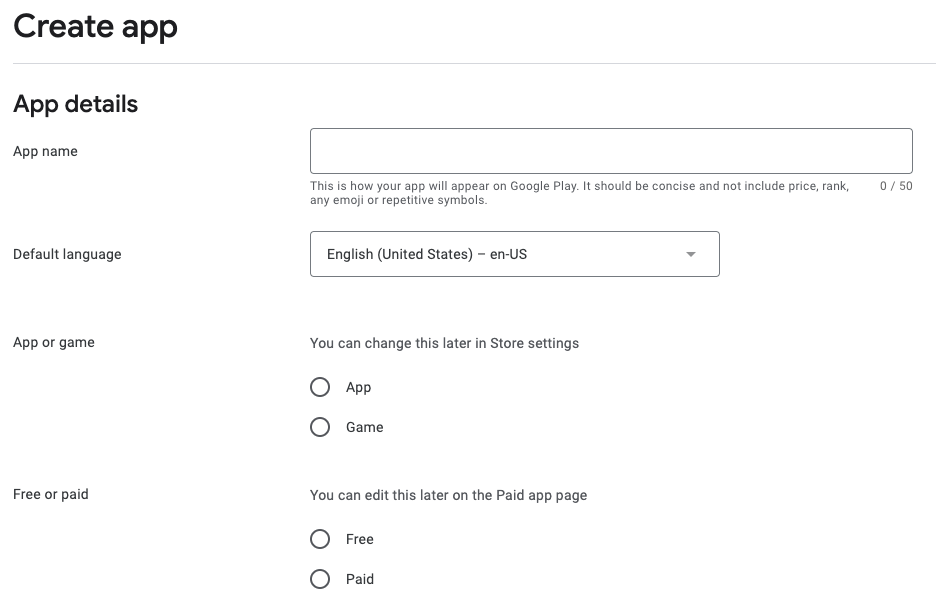 4. Accept the terms under the Declarations section.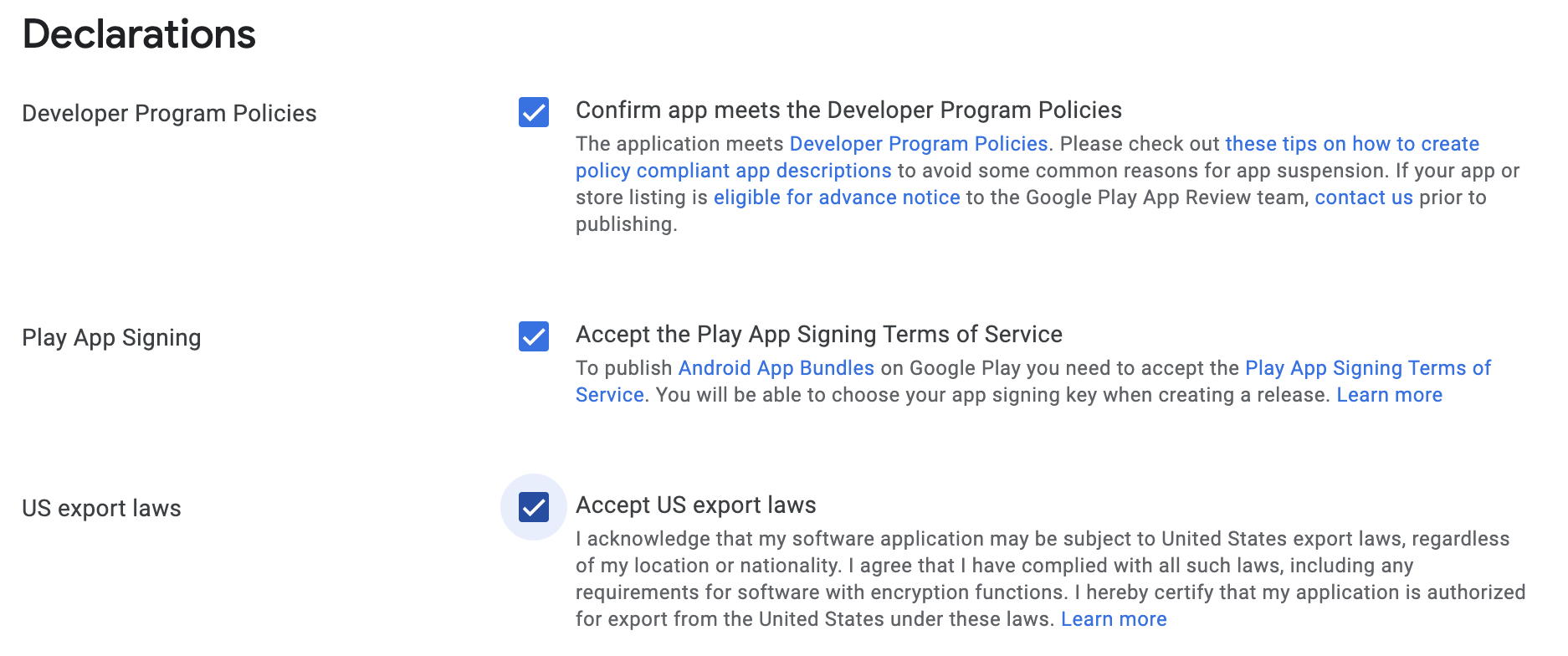 5. Under the Release section, navigate to Production:
Click on Create new release at the top right:

Upload the .aab file provided by the SpotMe team. Click Save.

7. Go to Countries / regions:
Click on Add countries / regions.
Select all countries if you would like to make the app available worldwide.
Click Save.
8. Navigate to the Store Presence section -> Main Store Listing:
Fill out the following information:
Text assets
App Name - up to 50 characters.
Short Description - up to 80 characters.
Full Description - up to 4000 characters.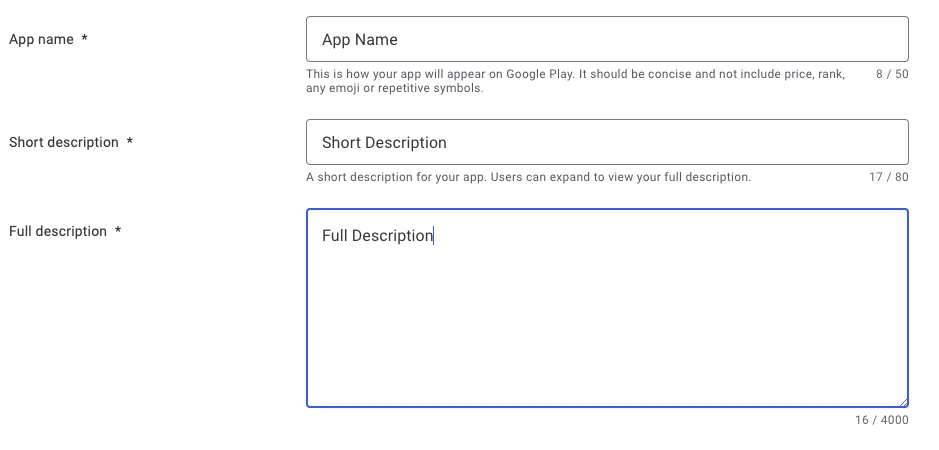 Visual assets
App Icon - 512 x 512 px app icon.
Screenshots - upload phone and 10-inch tablet screenshots provided by SpotMe.
Feature Graphic - 1024 x 500 px app banner.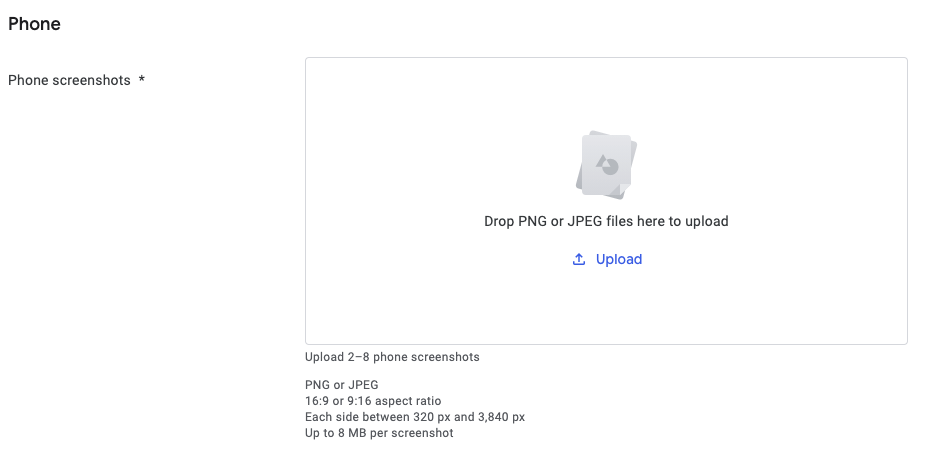 9. Navigate to the Store Settings section. Fill in the following details:
App or Game - App.
Category - Business.
Website - official website of the company.
Email address - support email address.
10. Navigate to the App content section under Policy. Fill out the following details:
App Access - Select "All or some functionality is restricted" and provide demo login credentials.

The demo login credentials will be provided by the SpotMe Team.

Privacy Policy - Provide a link to the app's privacy policy.
Ads - Select "

No, my app does not contain ads".

Content Ratings

Enter an email address to which rating confirmation will be sent.

Choose Social Networking, Forums, Blogs, and UGC Sharing as the app category.
Answer No to all questions in the Rating questionnaire.
Click on Save questionnaire and then Calculate rating.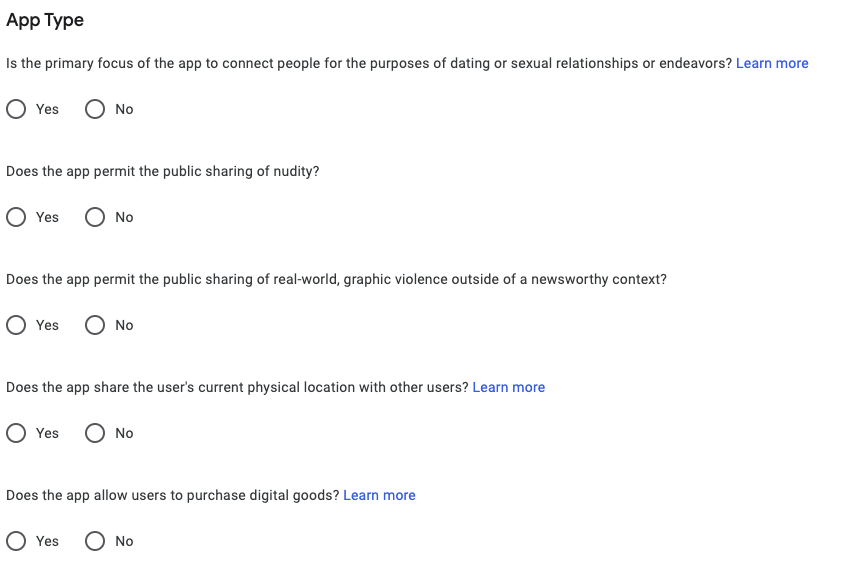 Target audience and content - Select "18 and over" for the target age group.

Click on Next and confirm.

News apps - Select No and click on Save.

COVID-19 contact tracing and status apps - Select "My app is not a publicly available COVID-19 contact tracing or status app".

Data Safety - The SpotMe team will provide a ready-to-import Data Safety Form.
If all the information is filled out correctly, a Ready to publish button will appear at the bottom of the page.
11. Submit the app for review:
Go to the Release section > Production.
Click on Edit Release.
At the bottom of the page, click on Review and confirm the release.
Once the application is successfully submitted, it can take up to 7 days to have it approved and live on Google Play.