Summary
Video breakouts are scheduled video chats that you can plan in your event.
Up to 50 participants join a breakout simultaneously using their webcam, with up to 12 participants displayed at a time to a user on the first page of the breakout. Users can then scroll to the next pages to see more participants.
When added to sessions, video breakouts can be used for workshops, where participants can get together in smaller groups and brainstorm on a topic, or just for a casual break during the session.
Backstage users can easily add collaborative tools such as Miro whiteboards or Google docs for participants to interact with. Networking is also now an integral part of a breakouts, thanks to the full list of participants and the "Add to contacts" or "Message" actions that are available to participants.
Breakouts can also be added to sponsor profiles or booths, to create a dedicated space where you can bring your partners and participants together.
The order of appearance of participants in the video breakout is determined on a first-come-first-serve basis.
Video breakouts are a no-download video conferencing solution that is built into Backstage and SpotMe's web app (via desktop). They are not supported on mobile apps. Simply update your the Agenda and Sponsor modules on your workspace to enable the new video breakouts.
Note: Video breakouts is currently a beta module. We are actively working on improving it based on your feedback.
Scheduling a video call
Video breakout in a session
Go to the Sessions module in your workplace, and select the session where you wish to add a video breakout. Now, click on the Schedule video call button (to the right) and then Save your changes.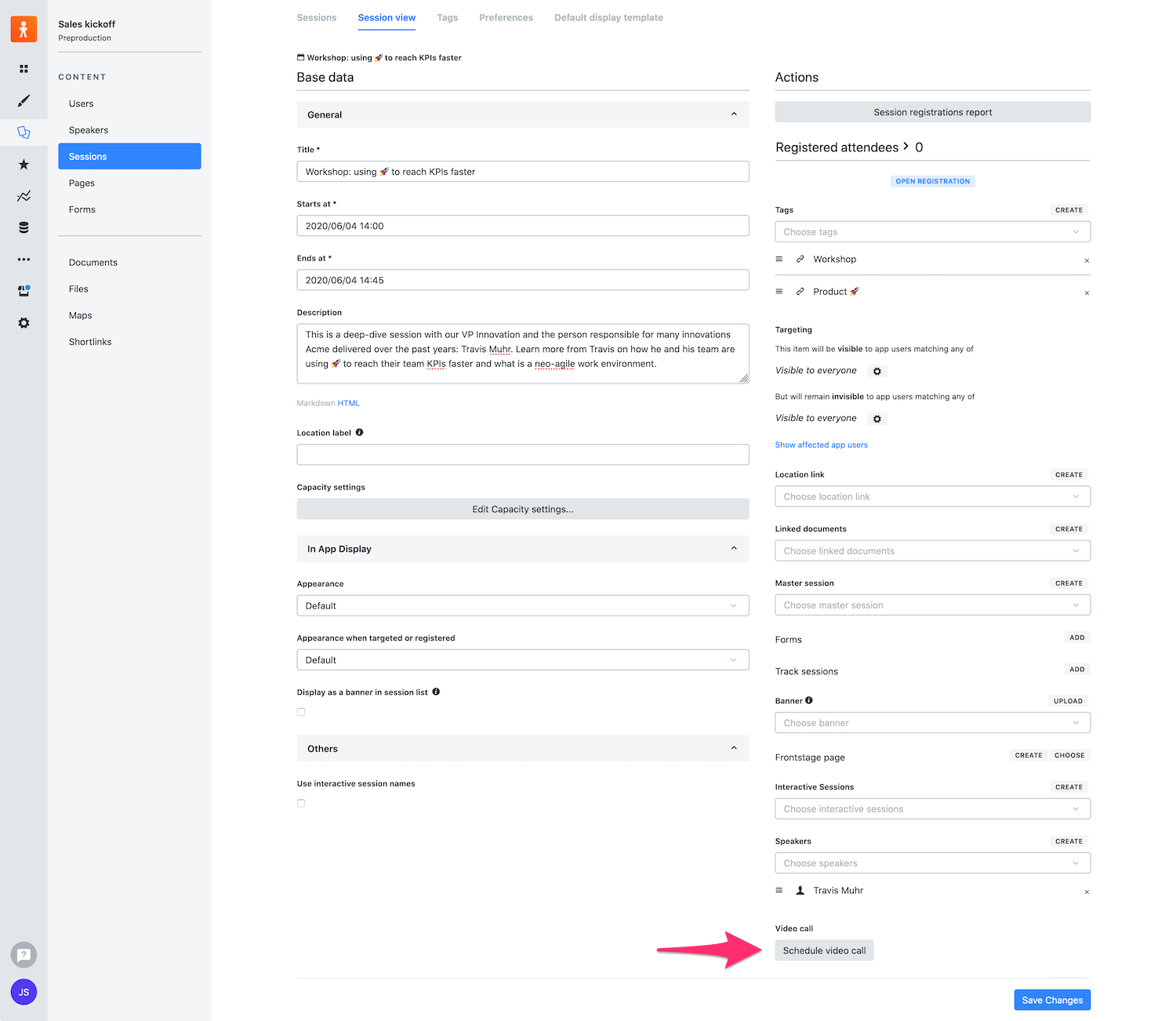 Once the video call is scheduled in a session, participants can simply join the call by navigating to the session in the event.
As a Backstage user you can also join the call by clicking on Join call in the session page in the workspace.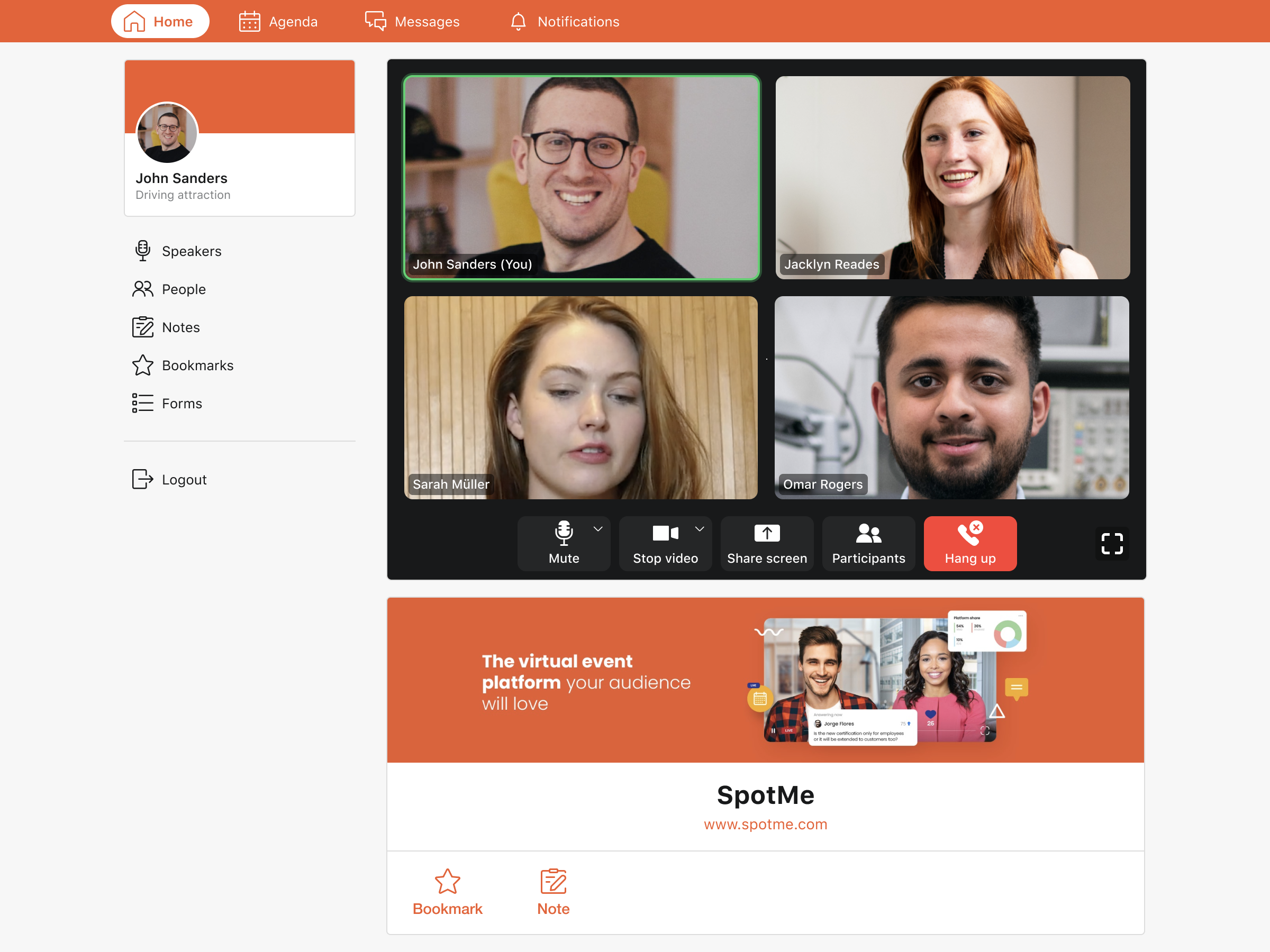 Video breakout in a sponsor profile/booth
The same as for a session, go to the Sponsors module in your workplace, select the sponsor profile where you wish to add a video breakout, and click on the Schedule video call button. Don't forget to save your changes.
Once the video call is scheduled in a sponsor profile, participants and sponsors can simply join the call by navigating to the sponsor profile in the event. The call opens automatically at the top of the page.
How can participants share videos with sound?
When in a breakout, sharing audio from your computer is supported only when you are using Google Chrome and you share a Chrome tab.
To share a video in Video breakouts participants can:
Drag and drop a video file into Google Chrome to open it as a new tab.
Click Share > Share screen in Video breakouts.
Select Chrome Tab at the top of the Share your screen popup.
Select the tab with the video.
Check Share audio in the bottom corner of the popup.
Click Share.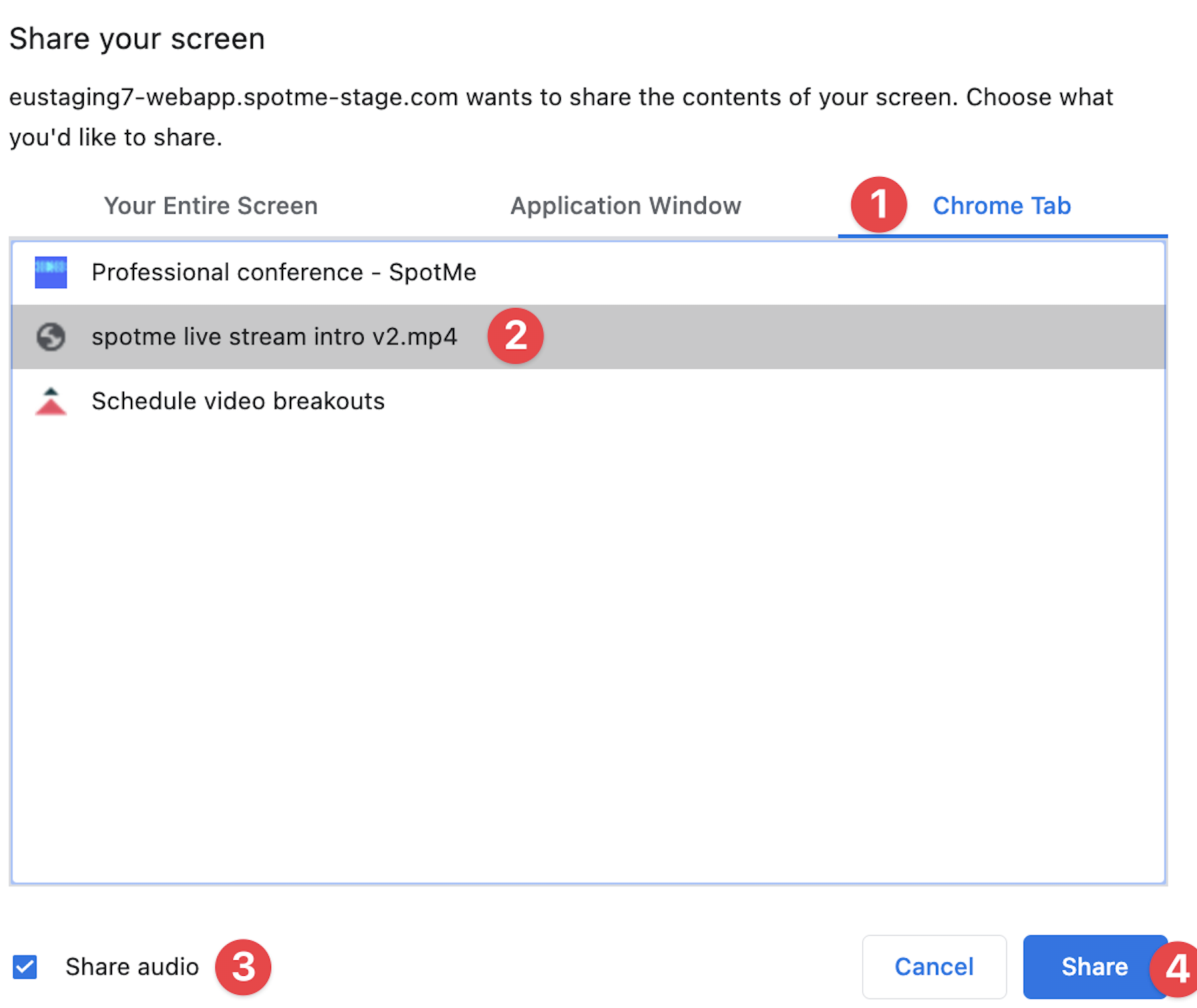 Technical notes and requirements
Supported systems and browsers
Operating systems:


Windows 7 or later.
macOS 10.10 or later.
Any Linux-based system with x64 architecture.

Browsers with full support:

Browsers with partial support (some features like screen sharing may not be available):


Safari 11 or later (ideally use the latest build).
Microsoft Edge 80 or later (Chromium based version only).
Bandwidth requirements
| | | |
| --- | --- | --- |
| One on One Meetings | At least 2.0 Mbps outbound and 2.5 Mbps inbound or higher. | |
| Four or more participants | At least 3.2 Mbps outbound and 3.2 Mbps inbound are required. | Due to the way peer to peer connections are designed, the more participants you add to the call the higher bandwidth you will need. |
Network requirements
For participants on corporate networks, all domains and IP ranges listed listed the Domain allow-list and split tunneling on corporate networks article have to be allowed.
Peer-to-peer networking needs to be permitted on the network. You can use test.webrtc.org to verify your network is permits this type of connections.
VPN
We do not recommend using Video breakouts with a VPN. Our recommendation is to turn off your VPN when having joining a Video breakout, and then turn it back on after finishing the meeting.
Limitations
Up to 50 users can join a video call. You can use session targeting to limit who can access a specific video breakout.
Video calls are not recorded.
There are no host controls.
Screen sharing does not share audio from the computer. Audio can be shared only when sharing Google Chrome tabs.
If a whiteboard or any collaborative tool is embedded in the breakout, participants will not be able to screen share during the breakout.