Adding Q&A to the stream
To add a live Q&A to your stream, you will need to enable the Q&A option, as explained in the Creating a live stream article. You also have the option here of allowing the audience to post comments or questions anonymously.
Note: Q&A is only available when streaming directly through SpotMe, and is not available when you are using a third party streaming solution.
Running the Q&A
1. Receiving questions or comments
When Q&A is enabled in a stream's parameters, participants can post questions to the event during the countdown and during the stream, either anonymously or not (depending on the selected option).
Here for example, the participant is posting the "Love the QA and clapping" comment.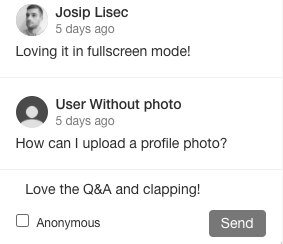 TIP: The moderator(s) can also post questions/comments directly in the Q&A, that can be collected prior to the session in order to steer the discussion. Questions added by the moderator are posted on behalf of the event (with the event icon), and go straight to the For discussion tab in the Q&A.
2. Moderating questions or comments
Posts or comments from participants are received in the Incoming tab of the Q&A section of the control center.
For incoming questions, moderators have three options: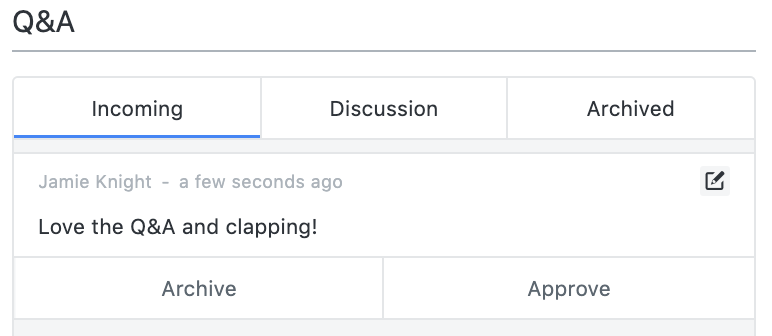 Edit

the incoming question,

if needed.


Approve the question for discussion: this moves the question to the Discussion tab and makes it appear for all

participants

to see in the Q&A feed to the right of the stream,
OR
Archive

the question: the question will not be discussed and is moved to the Archive tab. Archived questions can later be moved to the Discussion tab if needed.
3. Pushing questions or comments to the live stream
For the questions that are approved and moved to the Discussion tab, the moderator can then Push to screen the question. The question's status changes to ON SCREEN, and the speaker can then address the question live:

4. Moving on to the next question or comment
Once the question has been discussed live, the moderator can then click on Hide from screen. The question is no longer displayed, and its status is changed to DISCUSSED.
Alternatively, the moderator can click on Push to screen for any other approved question, in which case the new question's status will be changed to ON SCREEN, and the previously discussed question's status will change to DISCUSSED.
NEXT STEPS
Find out how to add clapping to your stream.
Find out how you can add and launch polls in your stream.
Find out how to add live interpretation to your stream.