In addition to having the full list of participants available in your event, you can create custom lists of participants based on their profile information.
For example, you may wish to have a custom list of participants based on their organization, country, position, etc. This list, once created in the workspace, can then be accessed via a link in the app (such as a quick link, app menu item, or added to a page as a link).
As a further step, you can then apply targeting to the link, in order to decide who among your audience will be able to see the link and access the custom participant list.
Example: Create a list of attendees who work for the company Acme, and only allow attendees who work for Acme to access the list.
1 - Create the participant list by targeting the user metadata (Company: Acme).
2 - Apply the same targeting to the app menu item, quick link, or page that contains the link, so that only attendees who work for Acme can see it and access the link.
How to create a custom list
In the workspace main menu, go to Content > Users > Preferences tab.


On the left of the screen, click on the + button next to Custom lists, and create your list using the available fields: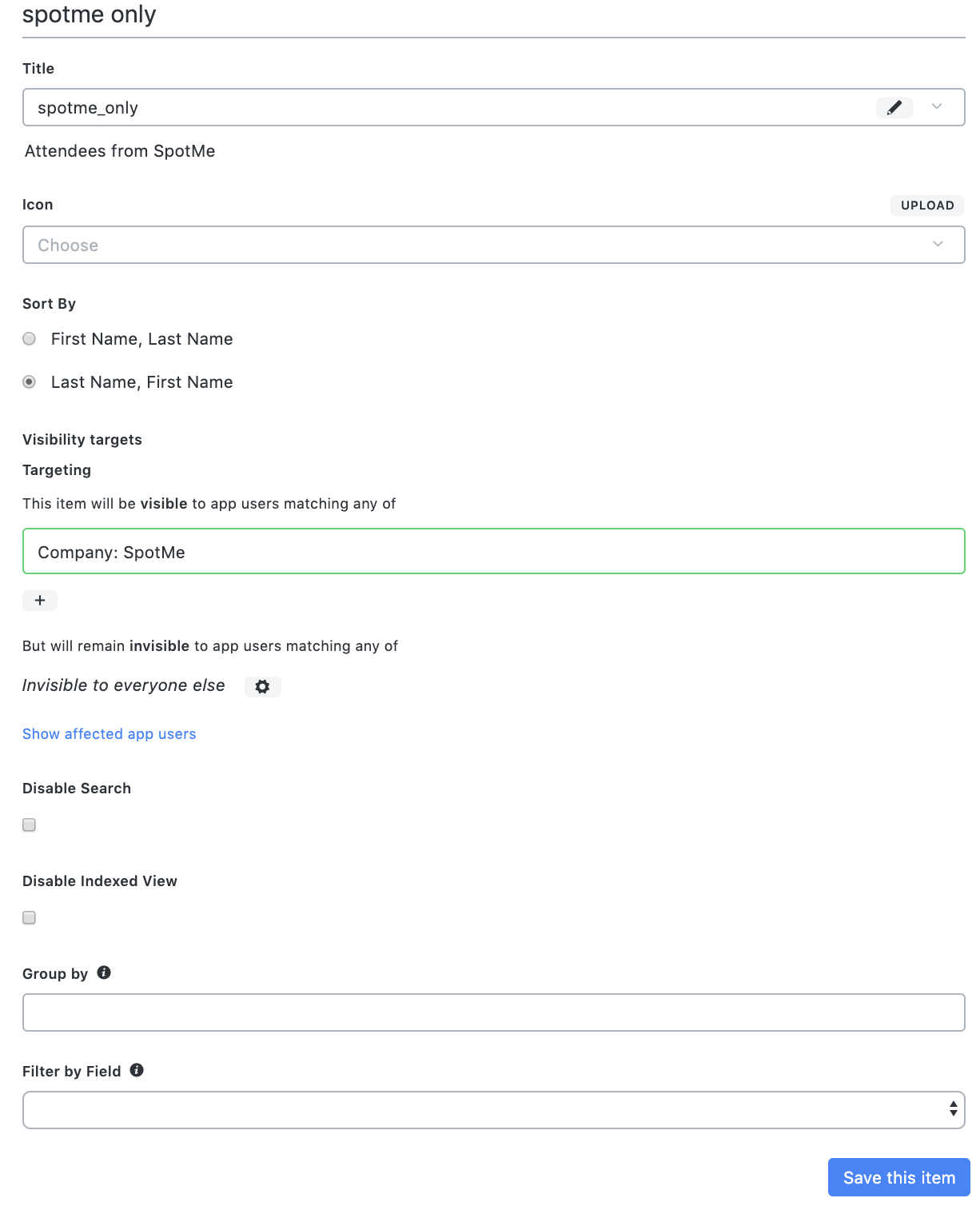 Title
Add a title to the user list. This will appear at the top of the custom list of participants when opened in the event.
Icon
Add an icon for the custom list of participants.
Sort by
Select whether participants will be sorted alphabetically in the list based on the first letter of their first name, or the first letter of their last name.
Visibility targets
Here you can choose who among your participants will be part of this custom list. This works in the same way as targeting, with rules and conditions. For more information on this please refer to the Targeting article.
Disable search
Selecting this option will prevent app users from using the search within the custom list of participants.
Disable index
Selecting this option will remove the visual alphabetical indexation (A, B, C) in the participant list, so only the list of participants will appear (sorted alphabetically).
Grouped by
Group by will work if the Disable index option is selected. Entering a field here (or metadata) will group all app users based on the information contained the metadata field. This could be used to group users per company, by entering the field "company".
Filter by field
This option can be used to enter a metadata so that, in the user list, the app user will be able to see all app users who have the same information as they do. For example, if the "country" field is selected here and the participant's "country" is USA, then all participants from USA will be displayed.