What is SpotMe Express?
Why not enroll in our free SpotMe Express course on the Academy, where you can learn everything you need to use Express in no time at all.
SpotMe Express is designed to provide a modern webinar experience to hosts, speakers and participants.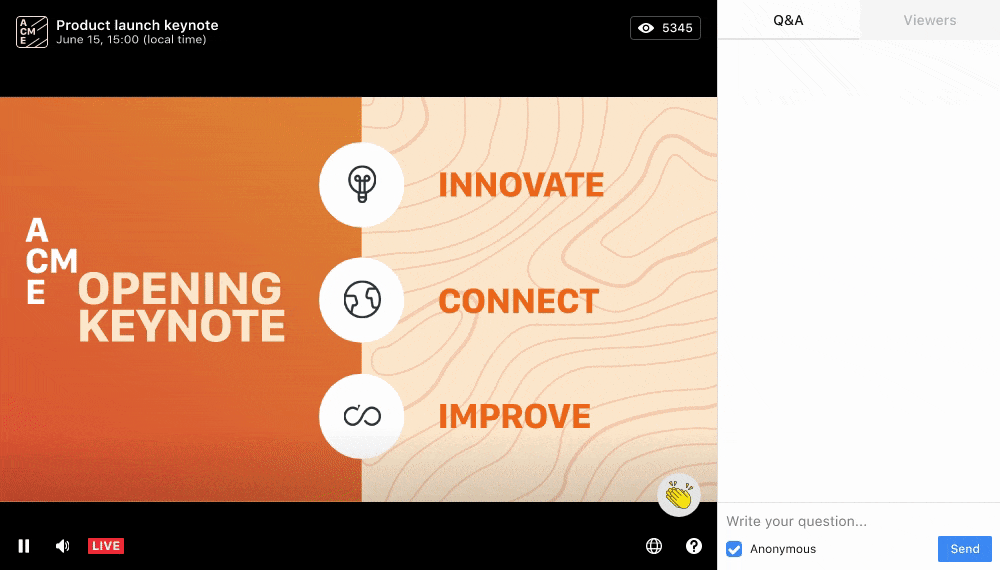 You can create a branded webinar that uses all the SpotMe live stream interactive features (Q&A, polls, claps, live interpretation), including a custom registration page and automated sign-up emails.
All you need is access to Backstage, where you can create webinars directly on behalf of your organization. All your speakers/moderators and audience will need is their browser.
Quick 4-step creation process
Creating webinars in SpotMe Express is thoroughly streamlined.
In four quick steps you can fully create and configure your branded webinar, including its registration page:
➡️ Step 1: Create the webinar

➡️ Step 2: Add branding to the webinar

➡️ Step 3: Add interactive features

➡️ Step 4: Add a registration page
When you are ready, simply invite your speakers and moderators to the webinar by sharing links with them.
Once you are all set, it's time to go live and start the webinar broadcast.
Note: To see the big picture of how a webinar can take place, with a basic timeline, take a look at the Webinar lifecycle.
All the information you need for your webinars
The articles below will provide everything you need to know about using SpotMe Express: