Jump to: Accessing the app • Using the app • Live video streaming • Live stream interpretation • Breakouts • Video calls • Other
---
Accessing the app
After entering my email I do not receive an email to access my profile
Please check that you have entered the correct email when accessing the app (the one that you provided for the event).
Please check your spam folders in your inbox, in case the email was marked as spam.
I can't find my access link, or the link is not working
If the link you have is not working, please verify that you are using the correct link (the latest one that you received by email for this specific event).
If you are using the correct and latest link, and it still does not work, please contact your event organizer or our support team using the button at the bottom right of this page.
Tip: When you receive your access link by email, it can be very helpful to add it as a shortcut or a bookmark in your web browser.
How do I log back in?
You can visit webapp.spotme.com to login with your email address that you have registered with.
If you do not remember which email address you used, try checking your inbox for a registration confirmation email.
If that does not work, please reach out to your event organizer.
Using the app
How do I change my photo?
To change your profile photo follow these steps:
Click on your name on the right side of the app
Click on the placeholder icon
Select a PNG or JPG photo to use as your profile photo
Click save at the bottom of the screen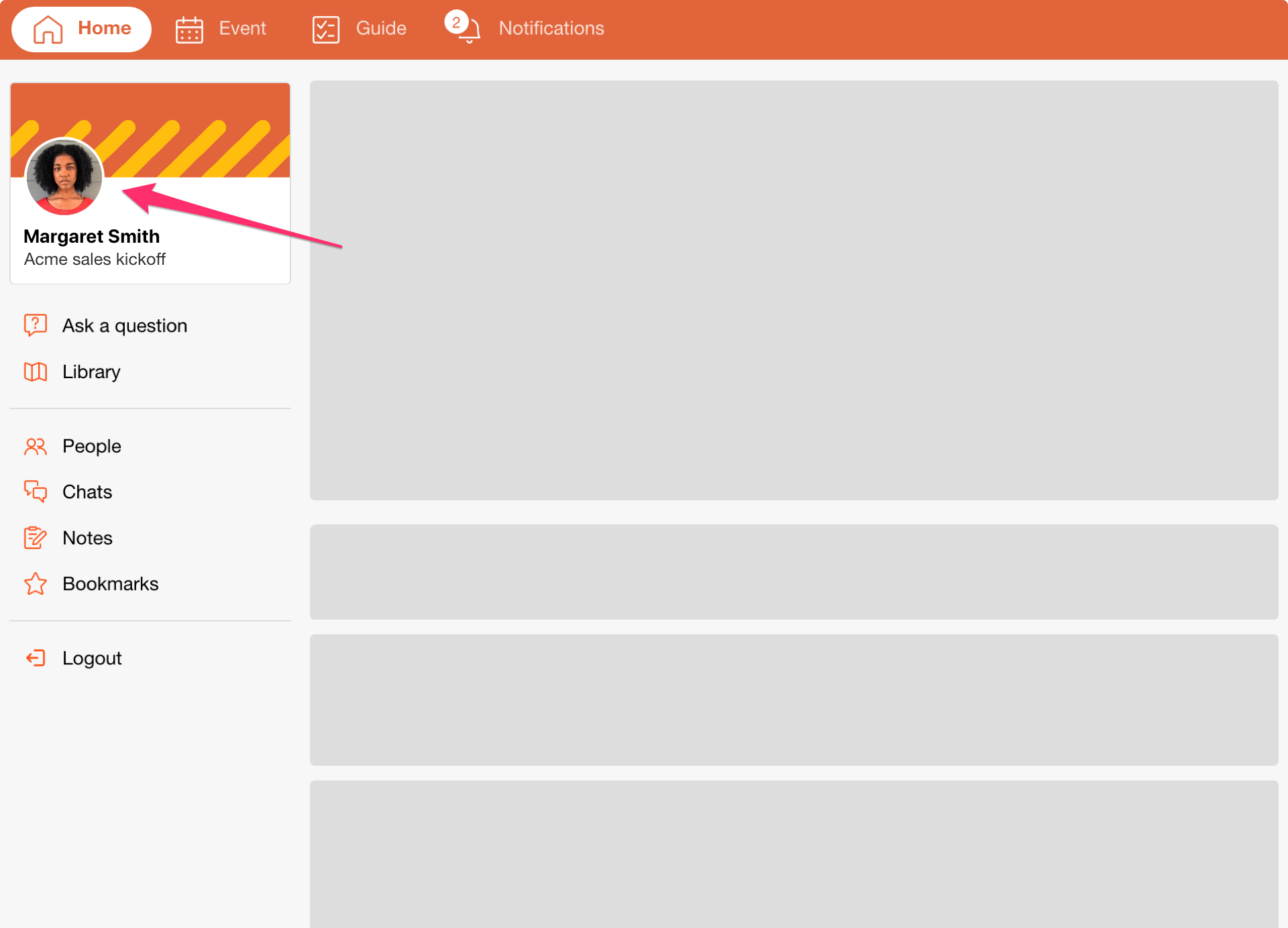 Note, for some events this option may be disabled and you can use only the photo the event organizer uploaded.
What timezone are the sessions displayed in?
All sessions and other time related information in the app is displayed in your browser's timezone, ie. they are local to your time.
How can I add a session to my calendar?
To add the whole event to your calendar check the registration email in your inbox. The email usually has a link that allows you to save the event to your calendar.
If you want to save a specific session to your calendar you can click on Save button on the session page and then select your calendar app.
I can't see the points I've earned in the app

Some activities in the app take up to 10 minutes for the points to be rewarded and become visible in the app. Please wait for 10 minutes, and if you still can't see your points please contact your event organizer or our support team using the button at the bottom right of this page.
I do not receive push notifications during polls
Notification pop-ups will only appear in the upper right corner of the app. If you are using another tab or another app at the same time, you may miss them.
If you miss a polling notification, you can click on Notifications item in the top or side bar of the app to access the poll.
If you are using the mobile app, please check that you did not disable notifications for the app, via the notification settings of your device (Settings > Notifications).
My posts are not appearing on the feed
Please note that some event feeds may have moderators who approve the posts before they are displayed. If this is the case, posts may not appear directly, but should appear once they are approved.
How can I change my email address?
Unfortunately chaining an email address is not possible at this time.
On the mobile app, I can't find the list of other events that I have access to in the app
To see the list of events you have access to, go to the app menu and tap My other events.
On the mobile app, pages or functionalities are not loading properly
Please make sure that your app is fully up to date, by checking the app on the App store or Google play.
Live video streaming
Test your internet connection and streaming quality at test.spotme.com.
Web browser and operating system recommendations
We recommend using a modern web browser such as Firefox or Google Chrome, or Safari.
Make sure you are using the most updated version of your web browser.
Clear the cache of your web browser.
Make sure you are using the latest version of your operating system.
Try to disable any unnecessary browser extensions. To do so, go to the Preferences or Settings in your browser, click on Extensions, then temporarily disable all the extensions.
Please note Internet Explorer is not supported.
I have no sound or sound is low quality
Click on volume icon on the video player to adjust the volume, or hover over the icon and slide the volume bar to increase the volume.
Ensure the browser tab with the video is not muted, right-click on the browser tab of your stream and click on "Unmute tab" or "Unmute site".
Check the volume of your computer.

There may be volume controls on your keyboard.
If you are using a laptop, unplug any external speakers, headphones or screens.

If you are using Bluetooth headphones, try re-connecting them with your computer.
We recommend using headphones for best sound quality.
Video is not loading or buffering
Make sure the video is not paused, if you see the Play ▶️ icon, click the icon to resume watching.
Test your internet connection speed with an online test.
We recommend at least 3/mbps download speed.
If you are using a VPN, try turning it off.
If you are on wireless, try following these tips to improve the internet speed:


Move your router to a central location in your home.
Do not place your router close to a microwave or cordless phones, they can create wireless interference.
Keep your router off the floor. You'll have better signal strength if your router is on a shelf rather than behind or under furniture.
Restart your router, to see if this may solve any internet connection issues.

Try a different connection, like a mobile hotspot or a wired connection.
Please also remember that public networks can often have limited bandwidth.
Video is freezing or stuttering
Try using a modern web browser like Firefox, Google Chrome or Safari.
Close any other open browser tabs that you do not need.
Close any other apps running on your computer that you are not using.
Video quality is low
We use adaptive streaming quality, which means that you may see lower quality video just at the very beginning of the stream (so you can join quickly), or if your internet connection is slow.
Leave the stream playing for up to a minute to allow for the quality to improve. If the quality is still low after a minute, check our tips above on improving your internet connection.
Audio or video quality from a specific speaker is low
Unfortunately, some speakers may have a temporarily a slower internet connection, which can affect their audio/video. This is not something you can fix as a viewer.
Audio and video are out of sync
Pause the video by clicking the Pause ⏸ icon, then resume the video again after a few seconds by clicking the Play ▶️ icon.
Do I have to use VPN to see the video?
No, your event's website will be available outside of the VPN. We recommend that you do not use VPN if possible.
I have sent a question but it's not appearing
Questions you send in the Q&A panel are often moderated and managed by panelists. As soon as they see your question and decide that it's relevant for the discussion, they will approve it and the question will appear in the list.
Live stream interpretation
How do I switch on interpretation?
Click on the "Change the language" button in the stream player, select your language, and then click on Connect.
How do I switch off the live interpretation?
Click on the "Change the language" button on the viewer, and click on Disconnect.
Live streaming is not working in my browser
Live interpretation is only supported in Firefox or Google Chrome browsers.
I can't hear the interpretation audio
Make sure that you have switched on the interpretation and clicked on Connect in the Interprefy window. Live interpretation audio volume is adjusted via the computer volume, try to increase the volume on your computer.
I don't see my language in the available options
This means that your language is not available for interpretation. For more information you may wish to contact your event organizer.
I hear both the live stream and the interpretation at the same time
Turn off the volume on the stream player so that you only hear the live interpretation volume.
Breakouts and Video chat
Test your browser and computer for compatibility with Video breakouts and chat at test.webrtc.org.
Can I join a video call when using a VPN?
Right now, we do not recommend using a VPN for video breakouts.
Because our service is using peer to peer connections, not having a consistent IP address can cause problems connecting to rooms, or in some cases a specific guest in the room.
Our recommendation is to temporarily turn off your VPN when having video breakouts, and then turn it back on after finishing the meeting.
My browser is not supported
If you get an error that your browser is not supported, please switch to a modern browser such as Firefox, Google Chrome or Safari.
If you are using a computer on which you cannot install new software, you will be unable to join the breakout.
Can't join a call from the iOS or Android app
Video breakouts are currently supported only on the web. You can follow the instructions in the app on how to join the meeting from the web.
Can't share my screen
Screen sharing is fully supported in Google Chrome and Mozilla Firefox browsers, where you can choose between sharing:
Safari currently supports only sharing your main screen.
I can't join a video call, or can't join with my webcam
Make sure you are using one of the supported browsers as listed above.
Make sure you have given the permission to the web browser to access both the camera and microphone. Depending on your browser you should see a camera icon in the URL bar and click on it.
Check that your browser does not have additional privacy settings that prevent it from sharing your webcam and microphone with websites.
Check the information on this page on screen sharing, joining a breakout on iOS or Android, or restricted countries.
Make sure you close any other applications that may be using your camera at the same time (like other video conferencing tools for example).
Can't join a video call or share video/audio
If you are having difficulties joining a video call or sharing your webcam or microphone, follow the steps below:
How can I screen share a video with sound?
Sharing audio from your computer is supported only when you are using Google Chrome and you share a Chrome tab.
To share a video in Video breakouts you can:
Drag and drop your video file into Google Chrome to open it as a new tab.
Click Share > Share screen in Video breakouts.
Select Chrome Tab at the top of the Share your screen popup.
Select the tab with your video.
Check Share audio in the bottom corner of your popup.
Click Share.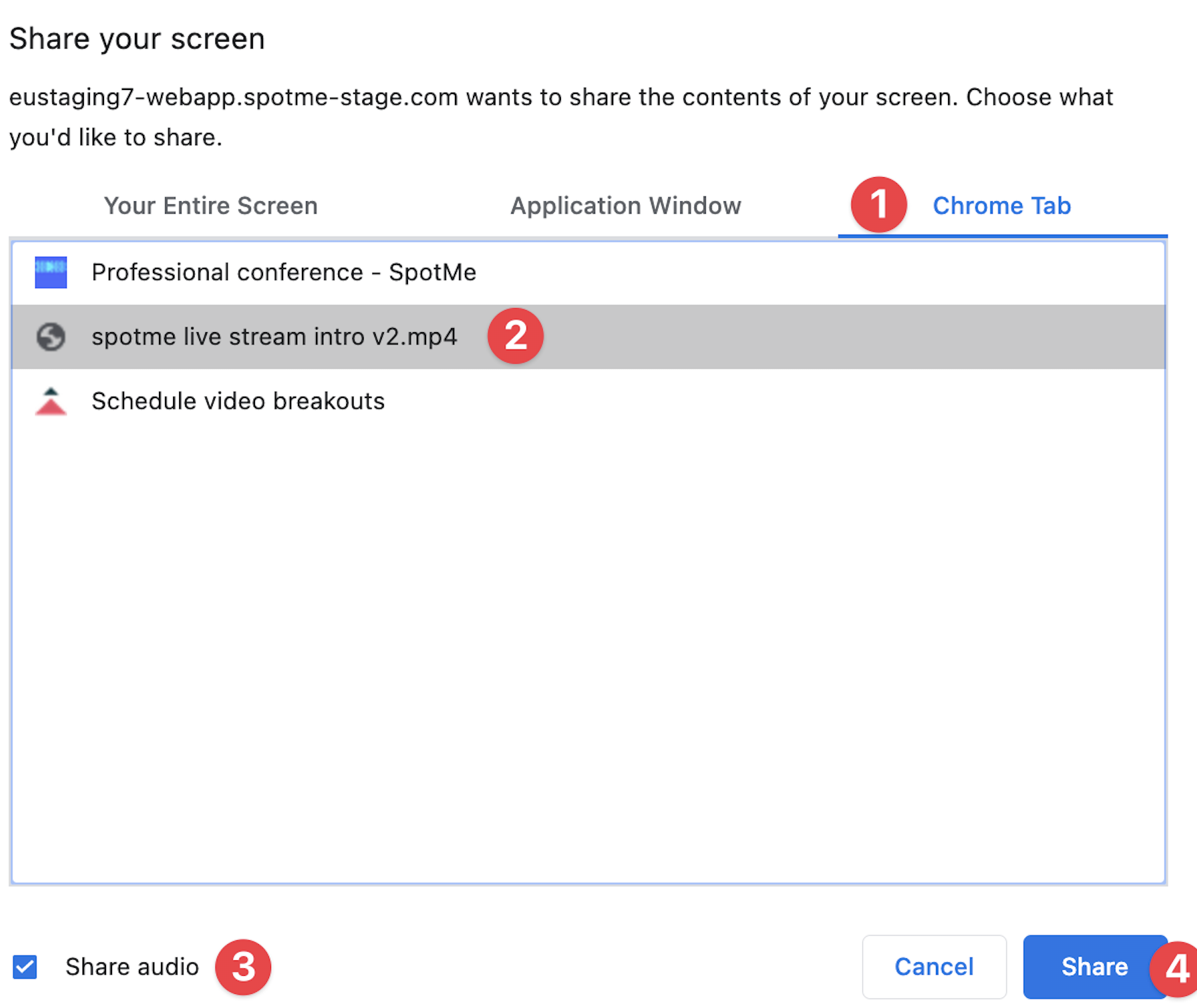 Can't join a call from the iOS or Android app
Video breakouts are currently supported only on the web app. Participants using our mobile apps will see instructions on how to access the web app (via desktop) to join the call.
Restricted use in certain countries
In a few countries (such as Russia and the UAE), we're aware of restrictions that have been put in place for peer to peer applications.
In many of these areas we've had reports from users that they have limited access to video breakouts, or that the service doesn't work for them at all.
Unfortunately because these are government-level restrictions that have been put in place on the internet, there isn't anything we can do to address these types of situations.
You are still having issues?
If you are having an issue that's not listed here, feel free to reach to our support team.