Summary
Of course, by switching to SpotMe you'll need to replace your existing app container with a new SpotMe one on the app stores.
There are two different strategies for transferring to the SpotMe app container: Cut-off and Transient. Selecting the best strategy depends on your event recurrence.
Transient vs. cut-off strategy
Transient strategy
If you are constantly running events throughout the year, you should pick the transient strategy. With this strategy, your old container and your new container will be running side-by-side until all live events launched in the old app have ended.
Advantages: Flexibility and Incremental transition.
Cut-off strategy
If you have at least a 4-week lapse between your events, you should pick the cut-off strategy and execute it during this time lapse. With this strategy, you will discontinue the old container and immediately launch your new branded app.
Advantages: Offers clarity to the audience and consistent user experience.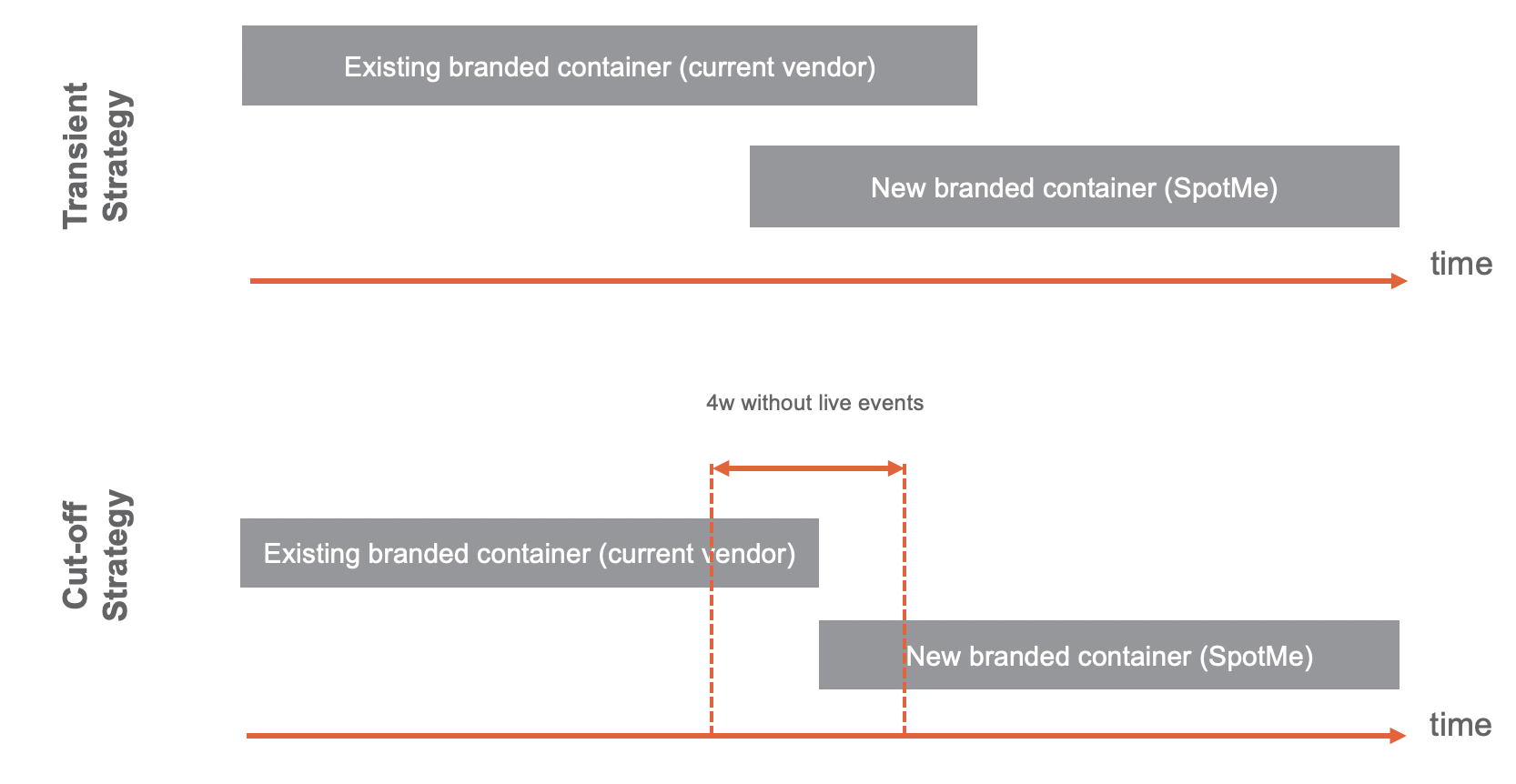 Transient app transfer
With the transient app transfer strategy, you will keep your existing app container for ongoing events, while preparing your SpotMe branded app for publishing.
As both your old and new container apps will be coexisting on the public stores, it is recommended that you use a new container name for the SpotMe app in order to differentiate them.
Once the SpotMe app is ready and approved, you can go live with it. At this point, any new event that is launched will be created in the SpotMe platform and will be hosted in the new container.
Then, once all the events hosted in the old container have ended, you can proceed with unpublishing your old branded app, to complete the transition.

Cut-off app transfer
With the cut-off strategy, you are preparing your new branded app for publishing, and keeping it hidden until it has been approved by the stores.
Once approved, you will unpublish your old branded app container and publish the new one. This immediate switch ensures no disruption in your operations and provides clarity to the target audience.
At this point, it is assumed that you no longer have live events in the old container and that any new events will run off the new SpotMe container.

Preparing your new container
Please refer to the below article in our knowledge base for more information on preparing your new SpotMe app container:
Naming your new app container
We recommend using a distinctive name for your new SpotMe-powered branded app container.
For example, assuming that your current app container is called "ACME Events", you could consider using more specific app names, such as:
ACME Experience; ACME XP; ACME Live; ACME Science; ACME Learn.
Read our App assets- Best practices article for more information on this.
Note: Keeping your former app container name is only possible with the Cut-off strategy.
To keep the app name, you need to either:
Completely remove the old app container in order to free up its name for the new app, or
Submit an updated version of the old container in order to change its name to a different one.
If you are using the Transient strategy, you'll have to use a new app name in order to avoid confusion among app users.
Unpublishing your old container
To process to unpublish your old container app depends on whether you actually have ownership of the app or not.
App ownership
To clarify, you have app ownership of your app if:
The app is published on the stores under your organization's Apple / Google accounts.
You have Account Holder / Admin access to the developer accounts.
If you are unsure of the ownership of the app, please contact your App mobility team to find out.
Unpublishing process
If you have ownership of your old container, please follow these steps unpublish the app container.
If the container is owned by a partner or your current vendor, please contact them and request the app to be unpublished.
Note: If you current vendor offers remote data wipe, you may consider this option to comply with your internal data lifecycle requirements.