The SpotMe platform provides a variety of powerful interactivity tools to keep your app users engaged with your workspace.
But first, why is interactivity important in a workspace? Well, the average human attention span during a presentation tends to be around 20 minutes. This is perfectly normal: A dim room and no need for active participation will quickly drain anybody's attention. It's therefore no secret that interaction, and even something as simple as a poll half-way through a 45-minute session, can boost participant learning by up to 40%.
This article will provide an overview of some of the main the interactivity tools that can be used in your workspaces, with links to instructions on on how they can be configured in Backstage.
Feeds
The Feeds module is used to create public or private spaces within the workspace for sharing news and having discussions.

It allows both Backstage users and app users to post comments, photos, and videos, and is a great way to create interaction among app users on specific topics within the workspace.

Feeds are as such an essential means for app users to interact with one-another and with the workspace. By default, a home feed groups all the posts from all feeds on the home page of the app, with the possibility of choosing what feeds are included in the home feed.

Backstage users have full control of what is posted, who can see the posts and feeds, and how app users will be able to interact with the posts and feeds.

For more information on how to use feeds in your workspace, please refer to the Managing feeds and posts article.
Notifications
Backstage users can use the Notifications module to send information to app users within a workspace.

Notifications can be scheduled in advance or sent immediately, can be sent on behalf of a specific app user, and can target specific app users.

For app users, the Notifications module will be used to receive the notifications sent from Backstage, as well as all notifications that are sent automatically from other modules within the workspace.

These include meeting invites or updates, connection requests, feed, polling and form notifications.

For more information on how to use notifications in your workspace, please refer to the Notifications article.
Chats
The Chats module can be used by participants have one-to-one or group chat conversations with other participants. Once people have connected through the event or started chatting, they can also have video calls.
They can access the module by tapping on Chat from the main menu or the navigation bar.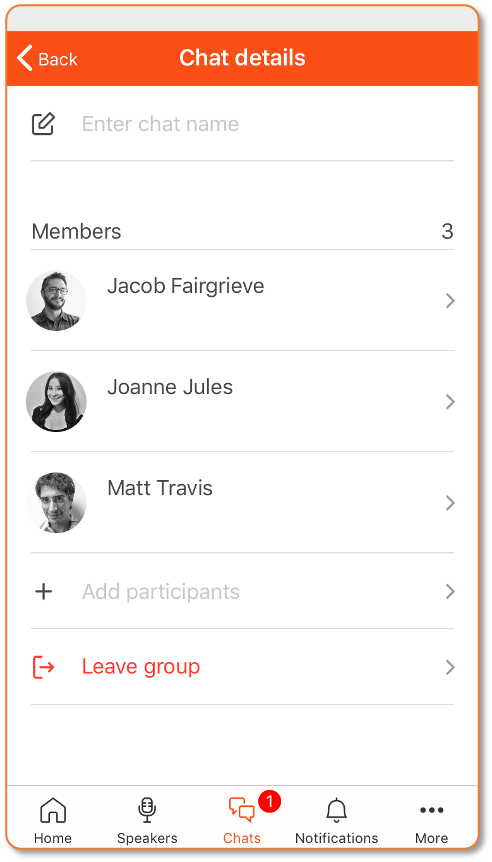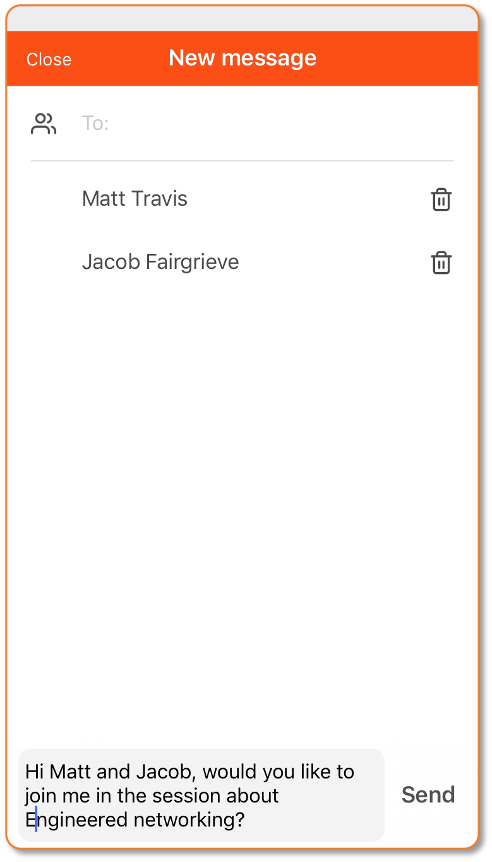 Live session interactivity
During live sessions, if the options are enabled, app users can interact by clapping or by asking questions to the speakers in realtime via the Q&A.
Polls, whether multiple choice or word cloud, are also a great way to keep your audience engaged and to collect important information.
Video breakouts
Video breakouts are a no-download video conferencing solution that is built into Backstage and SpotMe's web app.
These breakouts can be scheduled during sessions, or at any dedicated moment during your hybrid or virtual event, to allow teams and/or speakers to talk to each other via a video call.
Activity challenge
Encourage users to participate in activities, complete actions in the app, and compete against each other in order to drive engagement.

The Activity challenge module allows interactive challenges to be created in order to foster participation and engagement within the app.

Score and redeem points for in-app actions or tasks.
Configurable list of tracked actions (adding contacts, participation in polling, completing forms, scanning QR codes, reading pages, etc.).
Displays scores on a projection or in-app, together with a personal status.

For more information on how the Activity challenge module is used in a workspace, please refer to the Activity challenge article.

Activity challenge is a paid module, please contact your SpotMe account manager for any information regarding pricing.
Conversations
The Conversations module is used to exchange information with your app users in an interactive and friendly manner. Your app, through a fictive agent (or bot), will engage with app users via a chat message, asking them questions in order to start a discussion with them.

It can for example ask questions in order to gather user feedback on a product or an event, answer FAQs, evaluate user knowledge on a topic, or even encourage networking or lead generation by making introductions.

These conversation bots are created similarly to forms in Backstage, with a drag and drop interface using components, rules and conditions. You can choose specifically which users the bot will engage, at what time, and on what topics.

Additionally, links to in-app content can also be included in the responses that the bot will provide to the app user, in order to drive engagement and point users in the right direction. This can include sessions, pages, user/speaker/sponsor profiles, forms, etc.
NEXT STEP
For the next steps in this Getting started series, please continue to the Inviting app users to the workspace article.